Ugandan Newspaper Lists '200 Top Homos'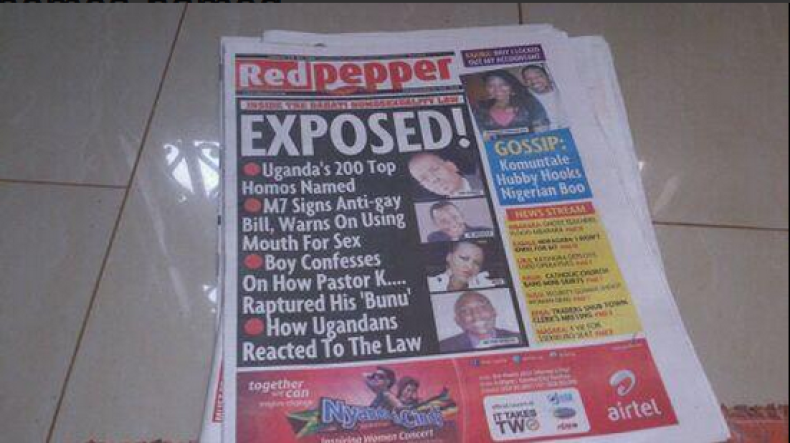 Ugandan newspaper Red Pepper published a list of the country's "200 Top Homos", outing some Ugandans who previously had not declared their sexual orientations.
The tabloid published the names - and some pictures – on the front page under the headline: "EXPOSED!"
The list of homosexuals comes one day after President Yoweri Museveni signed a controversial anti-gay bill which see life imprisonment for homosexual offences.
The list included prominent Ugandan gay activists such as Pepe Julian Onziema, who has repeatedly warned that Uganda's new anti-gay law could spark violence against homosexuals.
UN High Commissioner for Human Rights Navi Pillay also warned that the law would institutionalise discrimination and could encourage violence.
A similar list was published in in 2011 by the weekly Rolling Stone, which pictured Gay activist David Kato's face and that of another man on its cover under the headline "Hang Them!"
The subhead read: "We shall recruit 100,000 innocent kids by 2012: Homos" and "Parents now face heart-break as homos raid schools."
The paper pledged to expose 100 gay people and printed the photographs, names and in some cases home areas, of people it claimed were gay.
Kato was murdered few months later, after he had brought the publishers to court and won the case.
In signing the bill, Museveni said the measure is needed because the West is promoting homosexuality in Africa, rejecting international criticism of the law as interference in Uganda's internal affairs. Museveni accused "arrogant and careless Western groups" of trying to recruit Ugandan children into homosexuality, but he did not name these groups.
According to Parliament, the new legislation aims to protect the traditional family by prohibiting any form of sexual relations between persons of the same sex, and the promotion or recognition of such sexual relations in public institutions.
South Africa's retired Archbishop Desmond Tutu compared Yoweri Museveni's behaviour to Hitler's in Nazi Germany.
Tutu, a Nobel Peace Prize winner, said in a public statement he was "disheartened" by Museveni's decision, which could lead to situations like those that happened in Nazi Germany or during the apartheid.
US Secretary of State John Kerry said in a statement, "Now that this law has been enacted, we are beginning an internal review of our relationship with the Government of Uganda to ensure that all dimensions of our engagement, including assistance programs, uphold our anti-discrimination policies and principles and reflect our values".