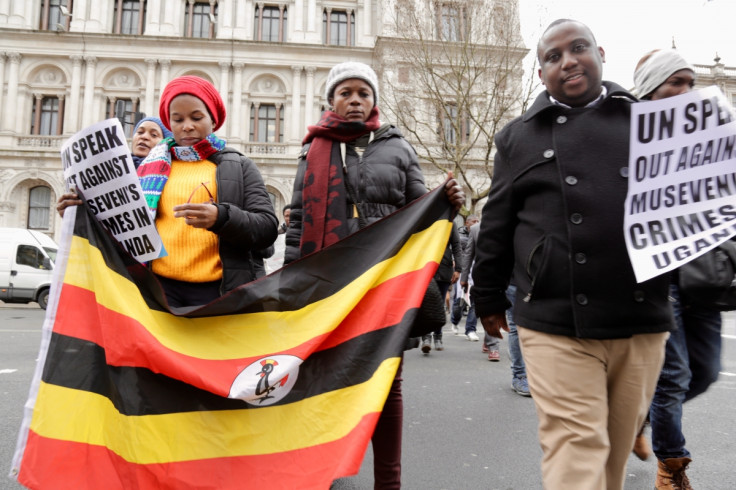 Members of Uganda's opposition and civil society representatives have handed a petition to the United Kingdom's Prime Minister David Cameron to urge him to denounce what they consider to be 'fraudulent' presidential elections.
On 18 February, Ugandans headed to the polls for the East African nation's presidential elections – which the Ugandan Electoral Commission said were won by autocratic President Yoweri Museveni, who was running for a fifth term in office.
The United Nations, European Union and African Union observers, the head of the Commonwealth observer's team, President Obasanjo, Ugandan Church leaders, the United States and Botswana governments, local election observers and NGOs, as well as by Ugandan opposition candidates, however, claimed there was strong evidence these elections were neither free nor fair, and that numbers announced were not a true reflection of the votes.
Three weeks after the presidential elections, the authorities have not ceased what is becoming an almost daily pattern of arrests for the Forum for Democratic Change (FDC) candidate Kizza Besigye, who has been arrested nine times in 11 days and has been placed under house arrest despite no charges being brought against him. (Read how Besigye described his house arrests: 'Take me to a proper detention place or let me go free)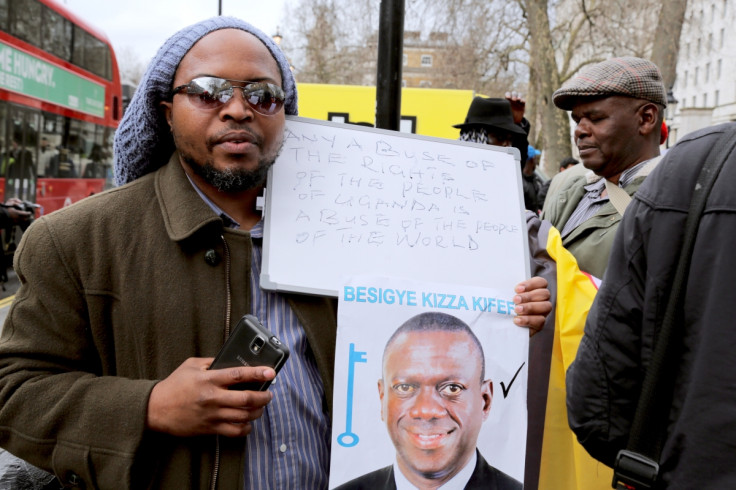 FDC: 'Don't recognise Museveni as Uganda's legitimate President'
In London, meanwhile, dozens of Ugandans met outside their embassy, Uganda House, at 1pm on 9 March, and the noisy group converged, to the sound of drums and a sound system, towards 10 Downing Street a couple of hours later to hand a petition that garnered around 500 signatures.
The march comes just over a week after another Go Forward presidential candidate Amama Mbabazi filed a petition against Museveni and the Uganda Electoral Commission in the Supreme Court of Uganda.
Stella Ikanik Opolot, UK chapter coordinator for the opposition FDC party, told IBTimes UK she marched down Whitehall to urge the UK Prime Minister and the international community to not recognise Museveni as the legitimate President of Uganda. The UK, one of the African leader's closest allies, is reported to have spent £841.7m ($1,204m, €1,086m) in Uganda since 2006, through its Department for International Development (DFiD).
Opolot said: "One reason for the petition is because in the past, the UK used to come out quite clearly and quickly when they felt something not quite rights was happening in Uganda, and this time we are surprised that they haven't spoken up. The US has, but the UK is quiet and we don't understand why.
"We are aware that the government supports that of Uganda through funding in a number of projects, and we want to bring to the attention that, when you are supporting Museveni's government, these things are going on. UK being a democratic country which promotes democracy should not be happy to continue to support a country that is ruled by a dictatorship and that human rights abuses are taking place."
The FDC and other opposition parties represented during the march urged the UK to "reconsider its position and maybe issue a statement or a strong warning of action to get the Ugandan government to listen".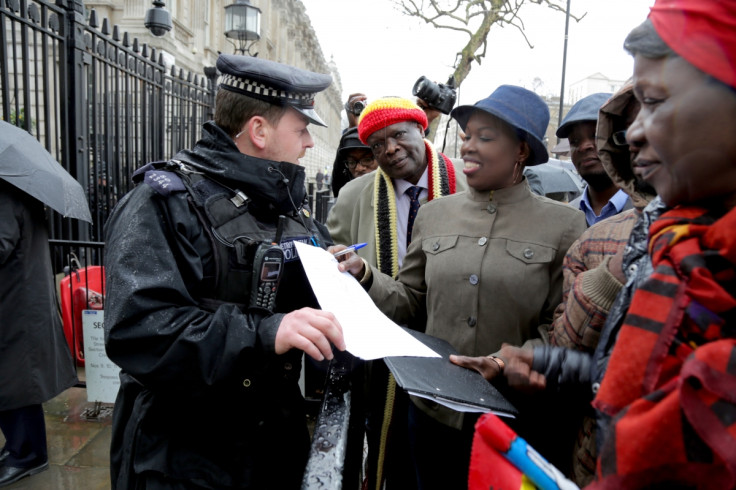 'Release supporters of political opposition'
Besides the demand for the deployment of an independent audit of the election results by international experts, the petition also calls for Cameron to demand the release of Besigye, alongside that of 300 polling agents, volunteers, supporters and leaders, who the FDC claims were rounded up by agents of the current regime and thrown into detention centres and torture chambers for their political affiliation.
Ikanik alleged some of the detained have "disappeared", explaining: "Some of them, we have not been able to trace them, they are still missing. We believe the number could be much higher than 300 imprisoned."
The coordinator explained these infringements are anti-constitutional. "The rule of law is also at stake here, because Uganda is now lawless", she added.
Another demonstrator, Bosco Nyeko, told IBTimes UK how he believed "The elections were probably the worst slap on the face of democracy in recent history – that was a military coup in its full format", adding that his goal was to mobilise all Ugandans around the globe over the issue of democracy.