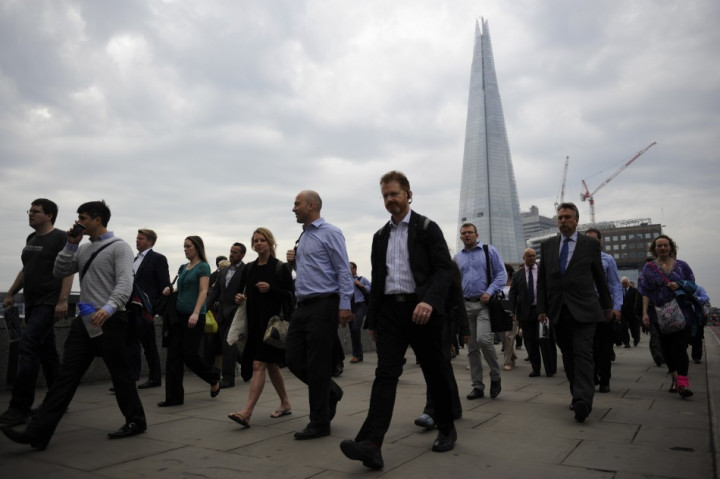 Revised UK official figures show that Britain did not suffer a double-dip recession in 2012, though the economy was still flat overall across the year and the outlook still remains bleak.
The Office for National Statistics (ONS) said GDP growth was flat in the first three months of 2012, after initially reporting a 0.3% decline. There was a 0.1% fall in output in the fourth quarter of 2011.
This means that there was not a technical recession - defined as two consecutive quarters of falling output - even though GDP then went on to drop by 0.5% in the second quarter and a further 0.2% in the final three months of 2012.
"Coming out of the economic downturn in 2008-09, the rate of GDP growth has been slower compared with the early 2000s, owing to weaknesses in the domestic and global markets," said the ONS.
Output is 3.9% below its pre-recession peak, much worse than the previous reading of 2.6%.
The ONS left its 2013 first quarter GDP estimate unchanged at 0.3% growth.
Data from private industry surveys show an improving picture in the service, manufacturing and construction sectors in the three months to the end of June. It implies GDP growth of 0.6% in the second quarter.
International Monetary Fund (IMF) economists slashed their UK growth forecasts for 2013 and 2014, to 0.7% and 1.5% respectively. In both cases it cut previous estimates by 0.3%.
Both Fitch Ratings and Moody's Investor Services, two of the world's top three credit rating agencies, stripped UK public finances of their AAA status because of the economy's worsening outlook.
Public debt sits above £1tn and is forecast to keep rising as a portion of GDP until at least 2016/17 - peaking at 85.6% - two years later than Chancellor George Osborne had said it would.
Widespread recession across Europe, one of the UK's key trading partners, has weighed heavily on exports. This has been worsened by a general slowdown across emerging high-growth markets in the far east.
Austerity has dampened domestic demand and incomes have fallen to record lows, with a real cut in pay, slashes to welfare payments, and a high cost of living all burdening UK households.
Related Articles:
Spending Review 2013: George Osborne's Axe Falls on Whitehall and Civil Servants
Spending Review 2013: Key Facts and Figures from George Osborne
Spending Review 2013: Reactions to George Osborne's 'Toxic Mix'