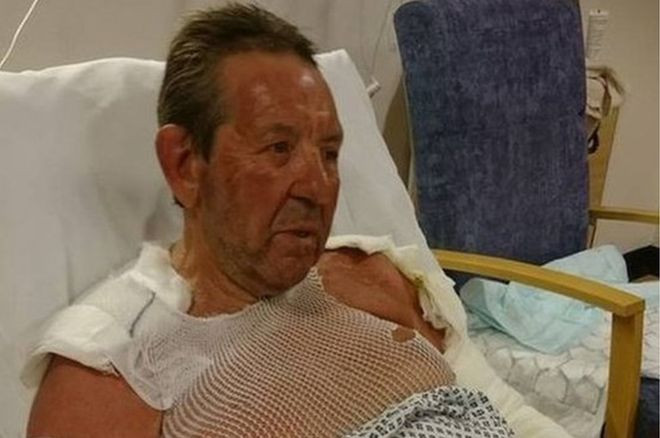 The Tory MP for Sittingbourne and Sheppey in Kent suffered burns to 30% of his body after he poured petrol on a bonfire to light it. He posted pictures of himself on Facebook from his hospital bed, in which his face is red-raw from the explosion which ensued. He wrote: "I failed to take into account that my new bonfire enclosure would create a build-up of petrol fumes.
"That, my friends, was a problem I had not anticipated. When I lit the bonfire it was those fumes that exploded, not the petrol itself!
"Because the fire was contained on three sides the exploding fumes had nowhere to go, except forward - towards me. It was a scary moment!
"My hair caught fire and I was badly burned on my face, back, sides, chest, both arms and right leg. In fact, my left leg was the only part of my body to escape (relatively) unscathed.
"Thankfully, there was a hosepipe close by (positioned for just such an eventuality) and my wife, Louise, had the good sense to immediately douse me with water for 10 minutes.
"If she had not taken such immediate action then I might well be dead, and that is not being over dramatic!"
Henderson was taken by his wife to a minor injuries unit at Sheppey Community Hospital, and he was then transferred by the Kent Air Ambulance to the trauma unit at Tunbridge Wells Hospital.
The Conservative MP was then admitted to the specialist burns unit at Queen Victoria Hospital in East Grinstead, where he was placed in the intensive treatment unit and spent 10 days recovering. He has now been discharged from hospital, according to BBC News.
He hopes others would learn from his ordeal and take more care when lighting bonfires. "It appears that I am not the only stupid fool who uses petrol to start bonfires."
"And, believe me, my action was foolish and is not something I will be doing again. Ever!"