UK troops in Estonia is 'defensive deployment' against Russia, says Sir Michael Fallon
800 troops from the 5th battalion The Rifles have been sent to boost Nato defences.
Defence secretary Sir Michael Fallon says the move to send 800 UK troops to Estonia is a "defensive deployment" in a bid to deter Russian aggression in the Baltic.
The deployment, which Fallon claims is the biggest of its kind from the UK since the Cold War, is part of a long-term commitment to thwart any threat from Russia following tensions between Estonia and Russia, which are neighbours, resulting from the Ukraine conflict.
It also comes after Russia described Nato forces near the Estonia border as "a threat".
Russia has been surrounded in controversy since it annexed the Crimea region of Ukraine in 2014. Fallon said action was required "because of the increased Russian aggression that we've seen and the need to reassure our allies on the eastern side of Nato".
He added the measurements were designed not to "provoke or escalate" Russian aggression but were in accordance with Nato's wishes to deter the threat posed by the country.
Initially, 120 troops from the 5th Battalion The Rifles will set up a UK headquarters. The force will be supplied with British Challenger 2 tanks, AS90 self-propelled guns, and armoured vehicles, which have been loaded onto a ferry and will arrive next week.
Estonia's defence minister Margus Tsahkna greeted the soldiers at Ämari air base on Friday (17 March), after they were flown in from RAF Brize Norton, Oxfordshire.
More troops are expected to be deployed in April, with the UK taking up a role in Nato's "enhanced forward presence" operation, a move that seeks to reinforce the alliance's eastern border.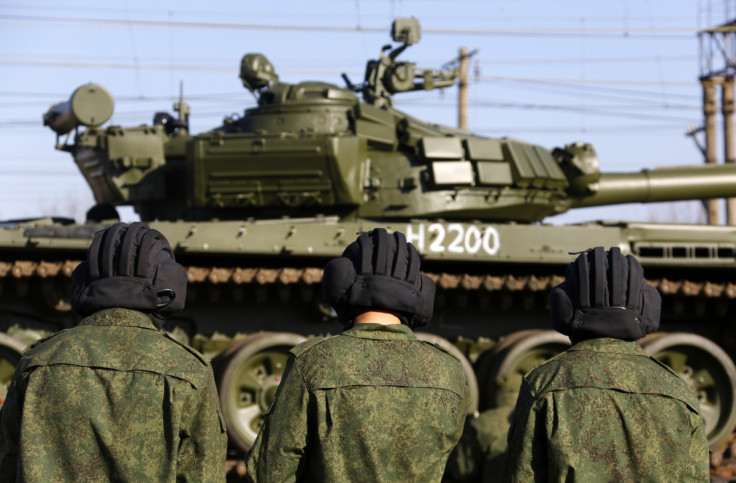 Captain Gav Dunlop was confident in the ability of his troops to deal with any potential threats from Russia.
"There's obviously a credible threat just over the border, but I think we're a credible deterrent so it just brings everything more to life."
The UK deployment to Estonia is one of four rotating Nato operations in eastern Europe, with Canadian, American and German/Belgian troops sent to Latvia, Poland and Lithuania respectively.
© Copyright IBTimes 2023. All rights reserved.