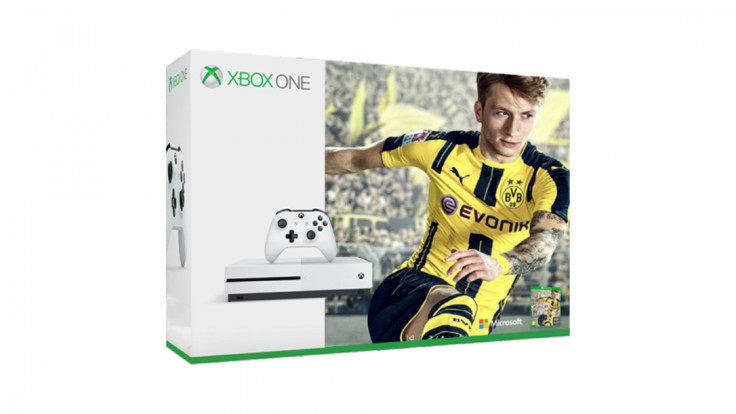 This week's round-up of the best video game deals and discounts in the UK is dominated by PlayStation 4 and Xbox One bundles involving some of the biggest recent releases. Included among them is a PS4 Slim with Fifa 17 for just shy of £250 and an Xbox One S with Battlefield 1 and Gears of War 4 for £269.
There's an Xbox One with Mafia 3, Gears of War 4 and Fifa 17 for £279 and a PS4 Slim 1TB model with Call of Duty: Infinite Warfare's legacy bundle, Mafia 3 and either Overwatch or Destiny: The Collection for £319.
On the games side of things there's Star Wars Battlefront for £12.50, Gears of War: Ultimate Edition for £10, Rise of the Tomb Raider on Xbox One for £19.99 and Metal Gear Solid 5: Definitive Edition for £23.85.
Thanks as ever to Hot UK Deals for supplying our list.
Consoles
PS4 Slim 500GB w/ Fifa 17 + Fifa 17 750 points pack + Dualshock 4 controller - £249.85 @ ShopTo
Xbox One S 500GB w/ Fifa 17 + Mafia 3 + Gears of War 4 - £279.00 @ Tesco Direct
Xbox One S 1TB w/ Gears of War Bundle & Forza Horizon 3 - £319.99 @ Argos
PS4 Slim 1TB w/ Call of Duty Infinite Warfare Legacy bundle + Overwatch or Destiny the Collection + Mafia 3 - £319.00 @ Tesco Direct
Xbox One S 500GB w/ Fifa 17, Mafia 3 & White Controller - £289.00 @ Tesco
Xbox One S 500GB w/ Battlefield 1 + Gears of War 4 - £269.00 @ Game
Sega Portable Console With 30 Built-In Games - £19.99 @ Argos
Games
Star Wars Battlefront (PS4/Xbox One) £12.50 @ Tesco Direct
Gears of War: Ultimate Edition (Xbox One) £10.00 @ Tesco Direct
Rise of the Tomb Raider (Xbox One) £19.99 @ Argos
Super Mario 3D World (Wii U) £17.99 @ Smyths
Dying Light: The Following-Enhanced Edition (Xbox One) £17.99 @ Base
Metal Gear Solid 5: Definitive Edition (Xbox One / PS4) £23.85 @ Simply Games
Battleborn (Xbox One / PS4) £8.00 @ Tesco Direct
For all the latest video game news follow us on Twitter @IBTGamesUK