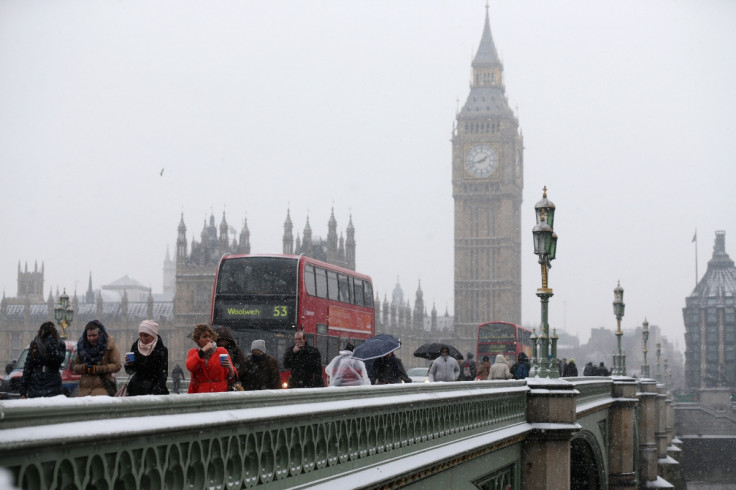 The Met Office has issued an alert for snow and ice in London − a rare occurrence at the start of spring. The forecast expects to see the capital hit by the first wintery showers of the year on 4 and 5 March, bringing with it some difficult travel conditions.
The Met Office has predicted its yellow warning for snow and ice in London is likely to be accompanied by a "medium impact to travel". Londoners have been warned of difficult driving conditions and travel disruption during the Friday evening rush hour, as well as some disruption on Saturday morning.
While the snowfall is expected to be predominantly confined to higher ground, lower levels could also see brief outbreaks of snow during heavy period of rain. A mixture of rain, sleet and snow is expected to cause hazardous conditions as "widespread ice" forms.
A chief forecaster at the Met Office said: "The greater hazard will come from the potential for widespread ice to form as skies clear through the evening behind the front allowing road surface temperatures to fall below freezing. As this front clears south through the evening, there is potential for widespread black ice to form quickly on road surfaces and pavements."
Warnings for snow and ice have also been issued across Wales and the rest of England. On higher ground of between 200-400m high, snow accumulations of up to 2cm is expected. Lower levels are likely to see mainly sleet and rain, turning briefly to snow during heavier outbreaks of rain. Forecasters have warned that the rain could result in a wash off of grit, which would allow previously treated surfaces to then freeze.
Despite the cold conditions, recent findings have shown that this has been the warmest winter for England and Wales since records began in 1910. Forecasters said that the warmest of conditions had been recorded in the south of England, there mean temperatures across the area reached more than 2C above the winter average.