UK weather: Summer postponed as storm and flood warnings threaten England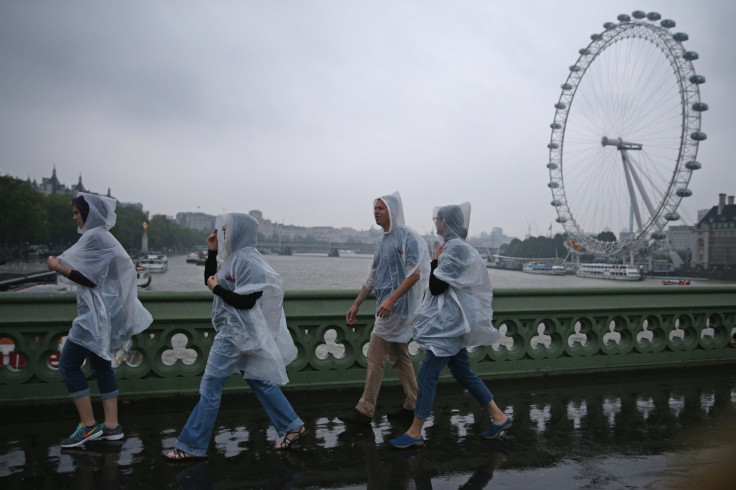 Summer officially begins on 1 June but you can put away the sun block for the foreseeable future as severe weather warnings have been issued for the east coast of England.
More than 20mm of torrential rain is expected to fall within one hour on 31 May. Weather forecasters said the rain is likely to be accompanied by thunder and frequent lightning, bringing the risk of flash flooding in places.
More than 60mm of rain is expected in the east within only a few hours, forcing the Environment Agency to issue a number of flood alerts in the south east, north east and Anglian region. Weather experts have said that the downpours will be accompanied by a blustery, northerly wind.
A chief forecaster for the Met Office said: "A thundery low over the continent will pass close to the south east of England, bringing a band of rain with it. This is likely to contain thundery elements and locally very intense rain. The greatest risk of disruption is in eastern parts during the early hours."
The Met Office's yellow warning for rain came into force just after midnight on 31 May and an updated weather warning has said that this will remain in place until 9am on 1 June. Commuters have been warned of the possibility of travel disruption on both days, particularly during rush hour.
On the morning of 31 May, train services between Ipswich and Ely/Cambridge were disrupted after signalling problems caused by a lightning strike. Road disruption also persisted in Ipswich due to heavy flooding that shut down Holywells Road.
A spokesperson for the Met Office said: "There are doubts both about how far north it will reach, and how widespread the heaviest bursts will be. However, rainfall totals are likely to be in the region of 15 to 25mm, but near windward hills, more than 50mm is quite possible."
Stormy weather across Europe has led to a number of casualties in recent days, including an eight-year-old boy who remains in a critical condition in hospital after being struck by lightning at a children's birthday party in Paris on 29 May. In Germany, more than 30 people were admitted to hospital after lightning struck a children's football match on 28 May.
© Copyright IBTimes 2023. All rights reserved.