A large fight has broken out between the coalition government in Ukraine's parliament, after Prime Minister Arseniy Yatseniuk was picked up and pulled from his podium during a speech. Yatseniuk was defending his much-maligned People's Front (PF) government, when lawmaker Oleh Barna from President Petro Poroshenko's parliamentary bloc presented him with a bunch of red roses, before grabbing him around the waist and attempting to pull him away.
A mass brawl then broke out between dozens of members of the PF and the parliamentary bloc on 11 December. It was a number of minutes before the fight ended, and the politicians returned to their seats.
The pro-Europe coalition government has fallen under increased pressure in recent months, with support for the PF and Yatseniuk dropping dramatically in the last year. Before the brawl, the prime minister said: "I took all the responsibility for the most unpopular steps in our country which no one has taken for twenty years. No one. And when I took this position I knew what would happen to my rating. I knew this. I came here not for my personal political rating but to conduct reforms and for the rating of our country".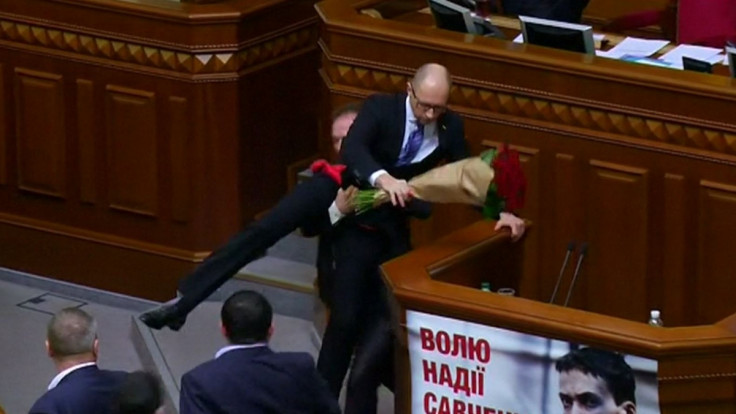 Deep divisions have emerged in the coalition over proposed tax amendments and the draft 2016 budget, with some speculating that the government could fall. Yatseniuk and Poroshenko were key players in the pro-Western leadership that emerged in February 2014, after the downfall of Moscow-backed Viktor Yanukovich.
The PF party triumphed in parliamentary elections later that year. However, the approval rating for the party is now around 1%, with the opposition parties considering a vote of no-confidence for Yatseniuk.