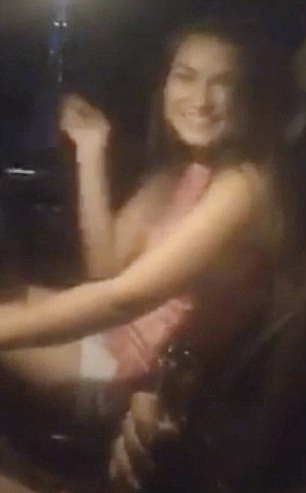 A teenage beauty queen live streamed her own death as she filmed herself and a friend drinking and driving in Ukraine.
Sofia Magerko, 16, and Dasha Medvedeva, 24, were seen drinking alcohol from bottles in the vlog and driving erratically just before the accident. One of them turned to the camera to say: "Hi boys."
Laughing and joking as they drove they described how much they 'enjoyed life' . Just seconds after their BMW car smashed head-on into a lamppost in Ukraine.
Sofia was killed immediately. Dasha died on the way to the hospital.
The horrifying sound of the car crashing into the lamp post is heard on the footage before it suddenly goes black at the moment of impact.
Bystanders are heard on the tape commenting on the horrifying scene. A male voice is heard saying: "F***, there is a dead body there... another one fell out of the car."
Photos capture the remains of the wreckage on the side of the road in the Kharkiv region. Sofia was the winner of a local beauty contest in her home city of Izyum.
Police in Izyum confirmed the fatalities but have not given reasons for the crash according to Mail Online.