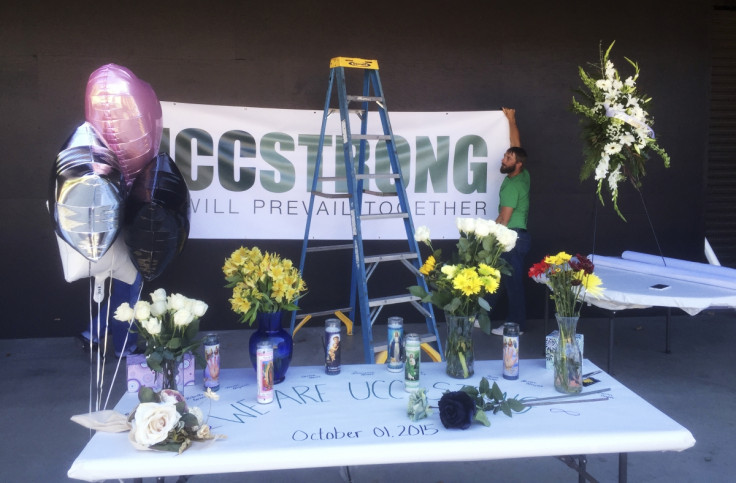 Umpqua Community College, the scene of the deadly shooting that ended in the deaths of nine students and a professor, reopened its doors on 5 October. The southern Oregon college welcomed students back with grief counsellors and comfort dogs, but kept classes cancelled through the rest of the week.
Reuters reported that the Rosenburg, Oregon campus reopened to allow students and staff to retrieve their belongings and vehicles that were left behind during the 1 October shooting. School officials told reporters they wanted to help restore a sense of normalcy among the community before classes and activities resume on 12 October.
Despite the peaceful atmosphere about campus, some students expressed some anxiety and trepidation. "The anxiety of walking back on campus is very real," student Jared Norman told Reuters. Norman and others reportedly met with college officials on 4 October to prepare for their return to campus.
The college's Interim President Rita Cavin told KATU that she had received support from around the world. "We've received messages of support from Moscow, Korea, Greece, the Philippines. This is not a club we wanted to join. We did not want to be part of the Sandy Hook Club, but we're now members," she said.
Students were met with teams of volunteers and six golden retrievers from the Lutheran Church Charities run K-9 Comfort Dogs network. College staff converted a section of an outdoor amphitheater into a shrine for the fallen professor and students, along with the message: "UCC Strong / We will prevail together."
Snyder Hall, the single-storey brick building as the centre of the rampage remains closed, with Douglas County Sheriff's Department's mobile command post set up in the car park. The building was one of two in which the 26-year-old gunman Christopher Harper-Mercer shot at his fellow students.
The carnage left Harper-Mercer's writing professor dead along with eight of his classmates. According to Reuters, nine others were injured before Harper-Mercer killed himself. It was later revealed that the gunman handed one of his male classmates an envelope with a flash drive during the shooting and spared his life.
Harper-Mercer carried six guns, five magazines of bullets and body amour with him to the school the day of the shooting, authorities said. Detectives recovered another eight firearms and an ammunition stockpile in the apartment he shared with his mother.
According to KATU, college officials said there will be increased security measures on campus that will require students to wear their ID badges.