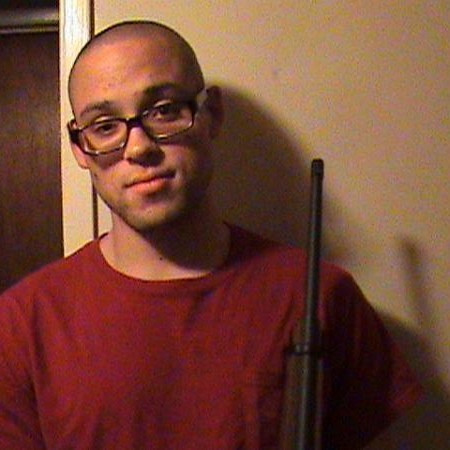 Oregon college gunman Chris Harper-Mercer killed himself as officers arrived at the scene of the massacre, police have confirmed. It was earlier reported that the 26-year-old was killed by officers in an exchange of gunfire after he went on a shooting rampage at Umpqua Community College in the US state of Oregon on 1 October, killing eight students and a teacher.
Following a post-mortem, it has now been revealed that he took his own life. Sheriff John Hanlin said: "The Oregon State Police Medical Examiner has determined the cause of death of the shooter to be suicide."
It was also revealed that Harper-Mercer was enrolled in the class where the shooting took place. The gunman left a "manifesto" - a typed statement that was several pages long, however officials did not reveal the content of the note. He added that one additional handgun was recovered at the home of the attacker bringing the total number of guns seized to 14.
It was reported that a warning message from the shooter was posted on an internet forum last night. The message, which was posted anonymously on bulletin board 4Chan, read: "Some of you guys are alright. Don't go to school tomorrow if you are in the northwest." The message continues "happening thread will be posted tomorrow morning. so long space robots."The alleged post is no longer visible on the website - the cached version was first posted on Reddit after the shooting.
Oregon state police released a statement from Harper-Mercer's family, saying they are "shocked and deeply saddened by the horrific events". "Our thoughts, our hearts and our prayers go out to all of the families of those who died and were injured," the statement said. The father of the gunman said he was "shocked" by his son's involvement, adding that it had been a "devastating day".
Harper-Mercer, who moved to the US from England as a child, apparently demanded to know his victims' religious beliefs before opening fire. Among the victims were three 18-year-olds - Quinn Glen Cooper, Lucas Eibel and Rebecka Ann Carnes - as well as Lucero Alcaraz, 19, and 20-year-old Trevor Taylor Anspach. The others were Jason Dale Johnson, 34, Sarena Dawn Moore, 44, Kim Saltmarsh Dietz, 59, and 67-year-old teacher Lawrence Levine.
The massacre in Roseburg, a former timber town in Umpqua River Valley, is the latest in a series of mass shootings at US college campuses, movie theatres, military bases and churches in recent years. It is the deadliest incident since June when a gunman attacked worshippers at a South Carolina church killing nine.
Anyone feeling emotionally distressed or suicidal can call Samaritans for help on 08457 90 90 90 or visit a local Samaritans branch or click here for support.