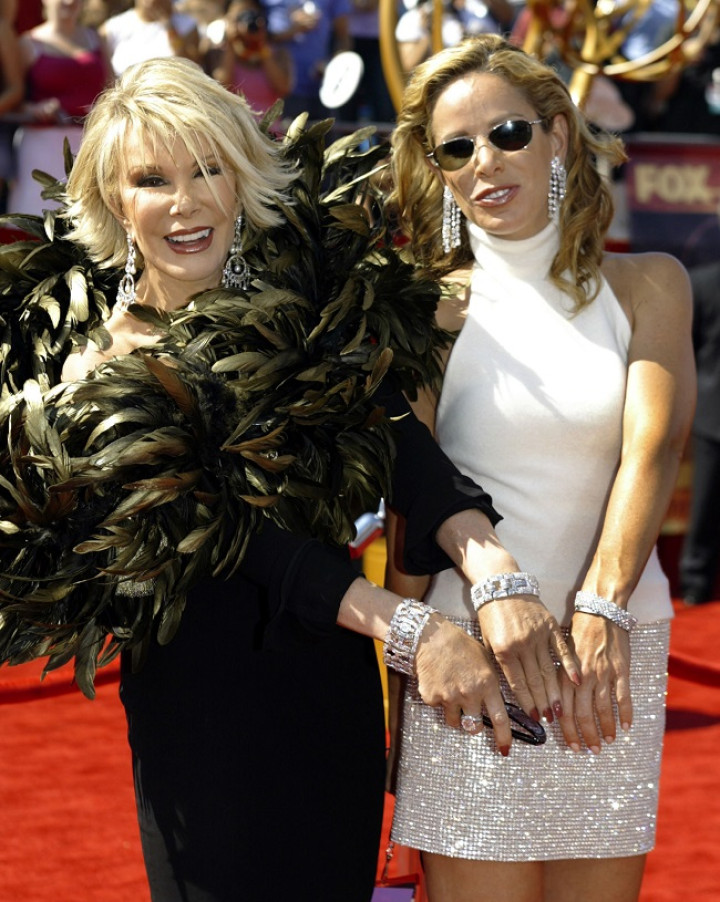 As Melissa Rivers announced the passing of her mother Joan, the sense of her deep loss is palpable.
The comedian suffered a cardiac arrest and was placed in an induced coma. Melissa remained at her mother's bedside till the end. In a statement she said: "It is with great sadness that I announce the death of my mother, Joan Rivers."
The two shared a unique mother-daughter relationship, working together professionally, bickering publicly, while personally supporting each other through the crisis of each of their lives.
Melissa Rivers, was the other half of the successful show "Joan & Melissa: Joan Knows Best?" for the past four years and the co-creator of her mother's YouTube series "In Bed With Joan." She hosted a variety of red carpet specials with her mom over the years and served as a producer for Joan's shows on E!
The two TV personalities were living together, with Joan occupying her daughter's guest room, a converted garage, in the Pacific Palisades area of Los Angeles. The home was the set for her web series.
Describing the arrangement Joan, in her characteristically acerbic style, said: "For the past four years, I've been flying out from New York and staying a few days each week to tape our two reality shows. My room is down a flight of stairs. You really learn your place here fast."
Melissa's son Cooper also forged a strong bond with his grandmother.
"Cooper, who just turned 13, has an amazing relationship with my mother. Those two are always deep in cahoots against me. He knows which one to go to," Melissa Rivers said.
However, the relationship between mother and daughter hadn't always been smooth. Melissa Rivers is the daughter of Joan Rivers and Edgar Rosenberg, who committed suicide in 1987. Joan Rivers told People magazine in 1993 that "Melissa blamed me" for her father's death.
Explaining her resentment towards her mother Melissa Rivers added, "I didn't want to know [what my mother was feeling]. It was her problem. I was going through my own thing."
Three months after her father's death, Melissa found herself in an abusive relationship and it was her mother she turned to during one of her lowest low points. It was there that the close bond between them was formed.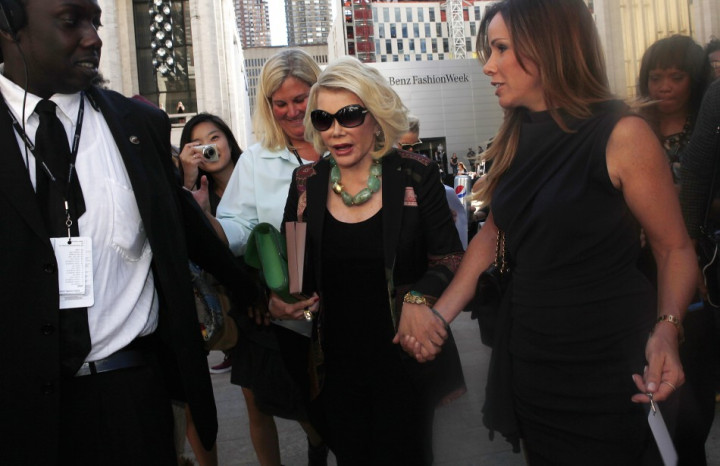 In a 2012 episode of "Joan & Melissa," viewers saw the depth of their relationship between mother and daughter in a candid and emotional exchange, in which Joan spoke of their life together.
"If anything happens, Melissa, I've had a great life. If I died this morning, nobody would say 'so young.' You're a terrific person, Cooper's fine. ... I've had an amazing life, if it ended right now -- amazing life! You've been wonderful and we've had a great ride together," she said.
"You've been just great and you've come through so much, and how lucky we are. I love you so much," she added.
But the bond between Joan and Melissa Rivers didn't come without its trials and tribulations.
"The thing I had and will always have is my mother. She was right there for me," Melissa Rivers said. "She didn't condemn me. She never asked me, 'How could you have gone back to him?' She just said, 'OK, this is the situation. Let's deal with it.'"
"We had to go through the bad times, but we came out of them," Joan Rivers said. "Melissa is the one to whom I could give total affection and feel it being absorbed and returned."