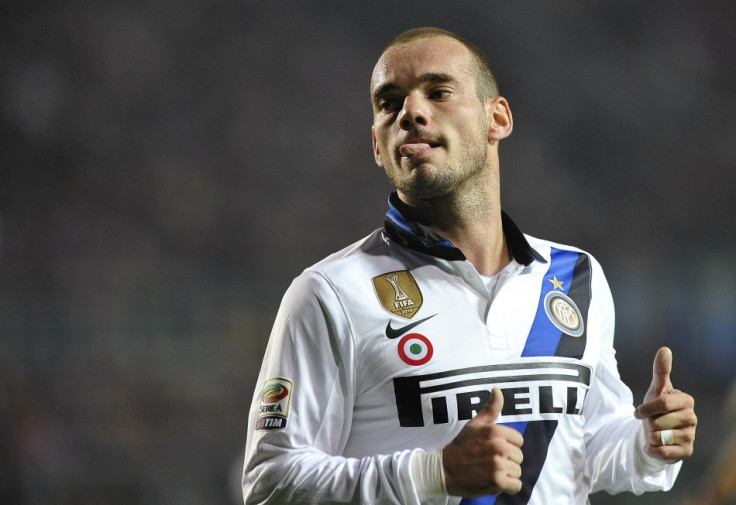 Manchester United should have bid for Wesley Sneijder in the summer transfer window just passed, according to Dutch legend Ruud Gullit, as the side struggle to keep up with cross town rivals Manchester City.
Gullit, who made 66 appearances for the Netherlands international side, has always been a big fan of Sneijder, with the playmaker starring for a struggling Inter Milan this season and the last.
And after Paul Scholes retired from Manchester United last season, it seemed an obvious solution for the club to bring the Dutchman in as a replacement.
But Sneijder's transfer fee of £40 million, along with his wage demands of up to £200,000 per week, were said to have turned United off. Gullit believes though that Sir Alex Ferguson should have taken the high-cash risk and signed the star, in order to create more support throughout the Red Devils' midfield.
"United are just too dependent on Wayne Rooney. They should have really tried to sign Sneijder," Gullit said. "Without Paul Scholes, they really miss having a creative midfielder in the team and I can't understand why they didn't make good their interest in Sneijder in the summer.
"I saw United play a well-organized Benfica side last time and they really struggled because they were up against opponents that had the guts to go to Old ­Trafford and attack," he continued. "Benfica played good football and they showed that United also lack organisation in defence.
"They miss the calmness of Edwin van der Sar. And, because of his back injuries, Rio Ferdinand can no longer deliver what is required at the highest level. If I was a United fan I would worry about this team."
David de Gea has been a shaky replacement for van der Sar so far, but at just 21 years old, Ferguson has insisted that United will be patient as they aim to create a team with a long term future at Old Trafford.
Though United had a fantastic start to the season, the side are now five points behind title leaders Manchester City, and their goal difference was whittled away by losing 6-1 to the big-spending club.
Now United are still in recovery mode, and though they haven't scored more than one goal in a league game since their loss to City, the club are posting consecutive wins, and if they can get past Basel in the Champions League this week, they will have their season closer than ever to being back on track.