University of York: Students peform 'anti-Semitic' play Seven Jewish Children during Israel Apartheid Week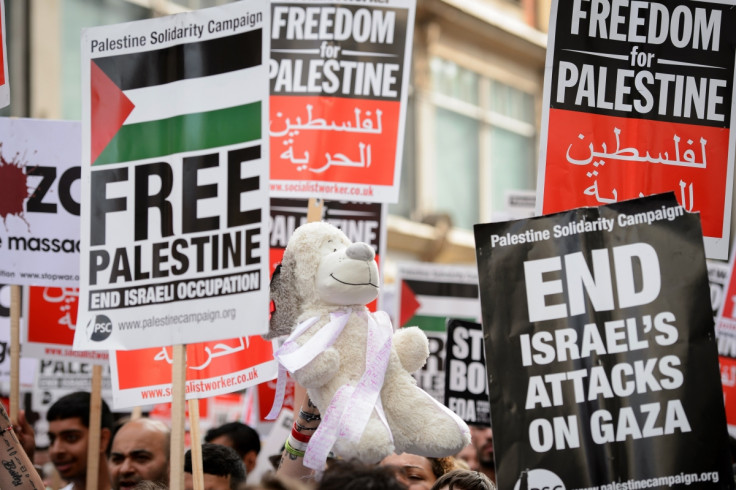 The University of York Students' Union (YUSU) has been criticised for allowing a pro-Palestinian group to stage two productions of a play described as anti-Semitic during Israel Apartheid Week. University of York student group the Palestinian Solidarity Society (PSS), co-run by Labour leader Jeremy Corbyn's son Tommy, performed Carly Churchill's controversial play Seven Jewish Children at a university building on 25 February.
The 10-minute play was written in response to an Israeli attack in Gaza in January 2009 and first performed at London's Royal Court Theatre later that year. It features seven short scenes focusing on different stages of modern Jewish history. Nearly every line in the play's dialogue begins with "tell her" or "don't tell her" as Jewish adults discuss how to explain events from the Holocaust to the Gaza conflict to a never seen child.
However, the play was criticised upon release for being anti-Semitic as "the words Israel, Israelis, Zionism and Zionist are not mentioned once in the play".
Dave Rich and Mark Gardner of the Community Security Trust (CST), a charity that monitors anti-Semitism in the UK, wrote in the Guardian in 2009: "We are often told that when people talk about Israel or Zionists, it is mischievous to accuse them of meaning Jews. Now, we are expected to imagine that a play that talks only of Jews, in fact, means Israelis. The anti-Zionist conceit that, as long as you are talking about Israel, you can say whatever you want about Jews, is laid bare here."
John Nathan, theatre critic for the Jewish Chronicle, added in his review for Seven Jewish children: "For the first time in my career as a critic, I am moved to say about a work at a major production house that this is an anti-Semitic play."
The University of York Jewish Society has condemned YUSU for allowing the event to go-ahead and accused the union of showing a "lack of concern" when confronted by issues of anti-Semitism.
A spokesperson added: "The Jewish Society reported the anti-Semitic content of the play hosted by PSS to YUSU at the earliest opportunity. YUSU responded explaining that it does not operate a 'no-platform' policy and that the event had been approved as it was deemed safe. This is a classic, and awful, example of how Jewish concerns are treated with contempt by a student body that claims to have universal anti-racist values.
"Despite YUSU's dismissal of no-platform policies, YUSU has not taken a stand against this play and the anti-Semitism therein. The Jewish Society finds this approach to be entirely inconsistent with YUSU's commitment to challenging anti-Semitism in a serious manner.
"The Jewish Society was not contacted by YUSU or the University regarding this event. In fact, the number of times that the Jewish Society has been contacted by YUSU (including BME Officers) or the University about the welfare and safety of Jewish students on campus has been nil. The Jewish Society has been completely alone in the battle against anti-Semitism on campus.
"Despite claims that the University and YUSU take anti-Semitism seriously, there has been no positive action to do so. The Jewish Society, however, considers actions to be much more indicative than words in this fight against anti-Semitism."
Ben Leatham, University of York Students' Union President, denied the allegations made by the University of York Jewish Society. He told IBTimes UK: "A wide variety of student-led events and performances take place on a near daily bases on campus and within the community. We take our responsibility to uphold freedom of speech seriously and we work hard to get the balance right between protecting our students and supporting them to exercise free speech in a safe and constructive, if sometimes challenging, learning environment.
"We back this up with a robust risk management system which was followed in this instance. We take any concern about discrimination or threats to personal security very seriously and endeavor to promote an inclusive environment at all times.'
A University of York spokesperson added: "Caryl Churchill is an award-winning playwright whose work has been widely performed, including Seven Jewish Children - a play for Gaza, at the Royal Court Theatre. The proposal for staging the play at the University went through our normal procedures and protocols. As an institution we are committed to the principles of free speech and freedom of expression."
Defending the decision to first show the play in 2009, the Royal Court Theatre said that while the play is "undoubtedly" critical of Israel, there is "no suggestion that this should be read as a criticism of Jewish people." A spokesperson added: "It is possible to criticise the actions of Israel without being anti-Semitic."
© Copyright IBTimes 2023. All rights reserved.