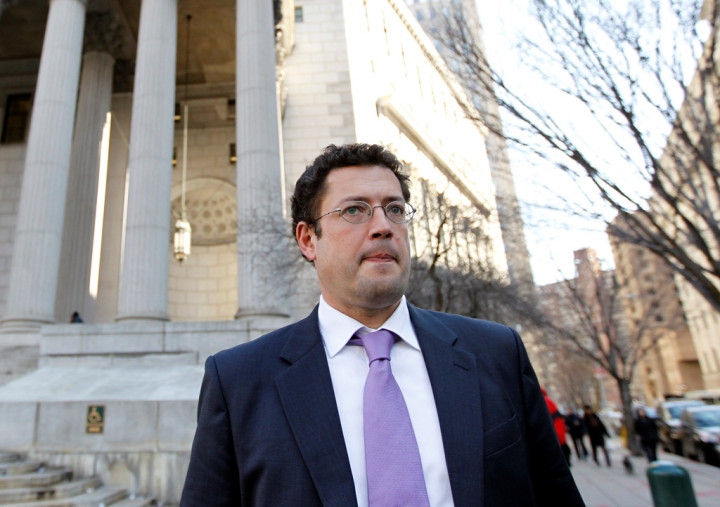 David Higgs, a former London-based Credit Suisse trader, has been spared prison after a US court decided to fine him for his part in hiding $100m in losses related to subprime mortgage bonds in the 2007 US housing market crash.
US District Judge Alison Nathan in New York ordered Higgs to give up $900,000 (£530,104, €661,528) to the government and pay a $50,000 fine.
Prosecutors said Higgs' cooperation helped build a case against his former boss Kareem Serageldin and may have encouraged another Credit Suisse trader, Salmaan Siddiqui to plead guilty.
They also praised Higgs, a UK national, for his "extraordinary decision" to willingly meet with US authorities, waive extradition and travel to America to plead guilty.
The office of Manhattan US Attorney Preet Bharara said Higgs provided "extremely substantial assistance" after agreeing to cooperate with prosecutors, Reuters reported.
Siddiqui is scheduled to be sentenced this month. Credit Suisse cooperated with investigators and was not charged.
The Case
US prosecutors accused Serageldin, Siddiqui and Higgs of wrongly marking the values of subprime mortgage-backed bonds between August 2007 and February 2008, amid the US financial crisis.
The effort, according to prosecutors, was aimed at augmenting Serageldin's reputation by portraying the trading book he managed as profitable.
The price manipulation contributed to a $2.65bn writedown; prosecutors said at Serageldin's 2013 sentencing that his book was overstated by $100m.
London Whale
The case is similar to the prosecution of two former JPMorgan traders, Javier Martin-Artajo and Julien Grout, linked to the so-called London Whale trading scandal, a $6.2bn financial scandal in JPM's London investment office.
Prosecutors have said both men conspired to mark positions in a credit derivatives portfolio at inflated prices to conceal hundreds of millions of dollars in losses. Both have denied wrongdoing.
Grout and Martin-Artajo are considered fugitives by the US government as they did not appear to face trial over charges arising from the scandal.
However, on 2 April, a lawyer for Grout, Marc Weinstein, told US District Judge George Daniels that negotiations were under way with prosecutors about a bail package that would enable Grout, a French citizen, to appear in the US.
But Martin-Artajo, who lives in Spain, has been fighting extradition.
Serageldin, formerly Credit Suisse's global head of structured credit, was sentenced in November 2013 to two-and-a-half years in prison after pleading guilty in April 2013.
Both Siddiqui and Higgs pleaded guilty in 2012.
The case is US versus Higgs, US District Court, Southern District of New York, No. 12-cr-00088.