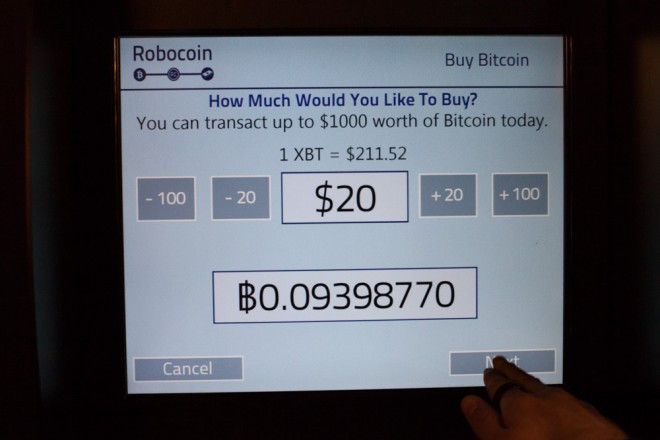 Bitcoin hardware maker Robocoin said it will install the first bitcoin ATMs in the US later this month, in a bid to make the digital currency more popular in the world's largest economy.
The machines to be installed in Seattle and Austin will enable users to buy and sell the popular digital currency. They will be similar to ATMs but will have scanners to confirm ID proofs.
They will enable users to deposit cash to buy bitcoins and exchange bitcoins for cash. They are linked to a virtual wallet application on consumers' smartphones to provide services.
Las-Vegas-based Robocoin, installed the world's first bitcoin ATM in a coffee shop in Vancouver, Canada last year. Within the country, the company plans another ATM in Calgary, Alberta.
In addition, Robocoin is planning to install ATMs in Asia and Europe.
Growing Popularity and Concerns
Bitcoin has steadily been gaining in popularity despite the volatility in its value. The virtual currency exists as software and is not backed by any country or banking authority.
It was launched in 2008 and is traded within a global network of computers. They can be transferred without going through banks or clearing houses, reducing fees involved in the services significantly.
As more and more businesses adopted the cryptocurrency for payments, it value sky-rocketed, peaking at $1,250 (£746, €912) in November 2013.
Nevertheless, critics say bitcoins could be used for drug transactions, money-laundering and other illegal activities due to the near anonymity of those who deal in them.
Earlier, a number of bitcoin exchanges suspended withdrawals due to an inherent vulnerability in the bitcoin system. The problem known as "transaction malleability" allows hackers to mask the transaction ID and continually ask an account to deposit more bitcoins.
The affected exchanges include Tokyo-based Mt. Gox, which once handled more than 70% of all bitcoin transactions, as well as Bitstamp and BTC-E that have resumed their services.
Hackers made use of the same vulnerability to attack underground drugs website Silk Road 2 and to steal the website's entire cache of bitcoin several millions of dollars.
The issues at the exchanges dragged down bitcoin prices to record lows. Bitcoin is currently trading at $624.62, according to CoinDesk.