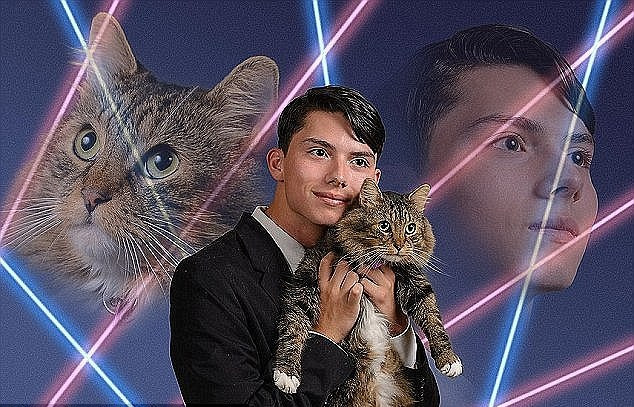 A 17-year-old boy whose 'laser cat' yearbook photo became an internet sensation, has committed suicide.
Draven Rodriguez launched an online petition for the comic photos of him with his cat to be published in his school yearbook.
In the tongue-in-cheek photos, Rodriguez is wearing a suit and holding his cat Mr Bigglesworth. They are both surrounded by laser beams.
During the campaign Draven told the Daily Gazette: "I don't want to go in the yearbook with the generic "I-look-like-everyone-else" photo. I wanted a 'He looks great, only he would try that' photo. When people look at it, they will know that was me."
He said the images were always meant to be over-the-top and ridiculous.
"I'm a little out there, and a little tongue-in-cheek," he said. "Cats and laser....sarcastic. It's so outlandish and ridiculous. I'm not trying to make any statement other than my photo is ridiculous and this is how I am."
His school in Schenectady, New York, agreed to publish the unconventional images following a public appeal.
The photos were featured on Jimmy Fallon's Tonight Show and The Ellen Show.
Rodriguez took his life on Thursday 19 February, at home, his parents told The Times Union.
Relatives and friends have paid tribute to the teenager for his empathy, and compassion.
His stepfather said the episode was a glimpse into Rodriguez's inspiring character. "He wasn't trying to stir things up with it. He honestly just wanted a silly photo because he had a great sense of humour. He had an empathy for the world and for other people that I think is rare in kids his age. It was wonderful to see."
To speak confidentially about suicide call the National Suicide Prevention Lifeline (in English and Spanish): 1 (800) 273-8255