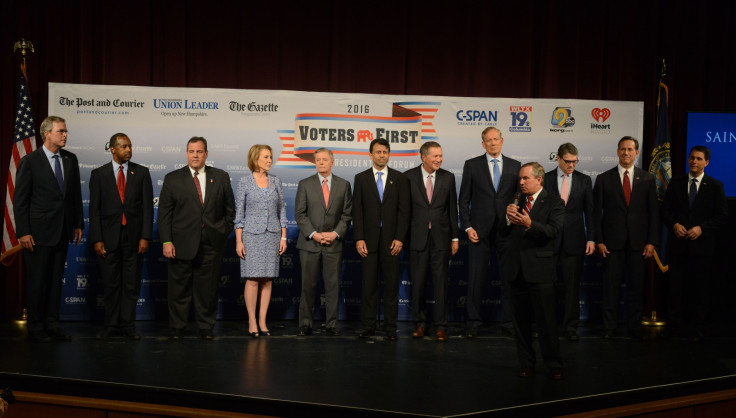 There was much trepidation in Westminster-land when ITV hosted a seven-way TV debate between Britain's political leaders, including David Cameron, Nigel Farage, Nicola Sturgeon and Ed Miliband, in the run-up to the general election. But the Americans have already dwarfed this broadcast feat by holding a 14-sided discussion between right-wing politicians hoping to secure the Republican Party's presidential nomination.
The bout, which featured talk of immigration and defence policy, was held in New Hampshire and saw the likes of former Florida governor Jed Bush, Wisconsin Governor Scott Walker and New Jersey Governor Chris Christie battle it out. But the event, hosted by the Voters First Forum and aired on C-Span TV (a public service station), did not feature property magnate and right-wing firebrand Donald Trump.
In fact, the show was a warm-up for the hopefuls ahead of a 10-way debate on Thursday (6 August) on Fox News. The broadcaster, one part of Rupert Murdoch's media empire, released an opinion poll late last night (3 August) that will be used among other surveys to calculate the top 10 most popular candidates according to their average score.
The study, which questioned 475 Republican voters between 30 July and 2 August, found Trump and Bush were the only candidates in double figures (26% vs 15%, respectively).
Trump criticism
Trump, one of 17 Republican candidates, drew heavy criticism after he alleged that migrants from Mexico had "lots of problems... including rapists". The comments were party of the businessman's controversial campaign launch, but he later claimed he would win over the "Latino vote".
"I'll win the Latino vote because I'll create jobs. I'll create jobs and the Latinos will have jobs they didn't have. I'll do better on that vote than anybody. I will win that vote. I have a great relationship with the Mexican people. They love me, I love them," he told NBC News.
Meanwhile, former secretary of state Hillary Clinton is storming ahead in the polls as she seeks to become the Democrats' presidential nominee and succeed her husband Bill and Barack Obama as the next US president.
An average of the national opinion polls, conducted by RealClear Politics between 16 July and 2 August, put Clinton on 56.4%, left-winger Bernie Sanders on 18.8%, former Virginia senator Jim Webb on 2%, the former governor of Maryland Martin O'Malley on 1% and the former governor of Rhode Island Lincoln Chafee on 0.8%.
Joe Biden, the current vice president of the US who is reportedly considering whether to throw his name in the hat, is on 13.3% and could present a threat to Clinton's White House ambitions.