The US navy's guided-missile destroyer carried out a "manoeuvring drill" when it conducted a freedom of navigation operation near disputed territories in the South China Sea on Thursday (25 May).
The operation, unlike the earlier "innocent" passage of US warships, was the boldest yet to challenge China's unilateral claims as well as to show the country that it was not entitled to a territorial sea around it, US officials said.
Washington sailed the USS Dewey within 12 nautical miles of the Mischief Reef in the Spratly Islands on Thursday (25 May), drawing a strong rebuke from China. Beijing slammed the US for entering its waters "without permission" and warned of unexpected accidents in the strategic waterways.
The freedom of navigation operation, the first under President Donald Trump, was meant to send a signal about US' intentions to keep patrolling the waters. Thursday's drill is reported to be the boldest challenge yet to China's military assertiveness in the sea.
Previous US freedom of navigation operations in the Spratly group of islands involved "innocent passage", wherein a navy ship recognised a territorial sea by crossing it promptly without stopping, Reuters reported analysts as saying.
However, the USS Dewey's patrol on Thursday was especially not an innocent passage as it not only sailed within 12 nautical miles of the reef but also conducted a "man overboard" exercise, US officials said.
"USS Dewey engaged in normal operations by conducting a maneuvering drill inside 12 nautical miles of Mischief Reef," one official speaking on condition of anonymity told Reuters. "The ship's actions demonstrated that Mischief Reef is not entitled to its own territorial sea regardless of whether an artificial island has been built on top of it."
For the first time, the USS Dewey sailed near a land feature that was included in a tribunal ruling last year against China in The Hague. The Permanent Arbitration Court invalidated Beijing's "nine-dash claims" in the South China Sea in July 2016.
Pentagon spokesman Commander Gary Ross reiterated the US' right to carry out freedom of navigation operations, saying such actions are not specific to only one country.
"We are continuing regular FONOPS [freedom of navigation operations], as we have routinely done in the past and will continue to do in the future," Ross said.
"The previous two freedom-of-navigation operations only challenged China's demand for prior notification for innocent passage through the territorial sea; this one asserted that there is no territorial sea at all," Greg Poling of Washington's Center for Strategic and International Studies think tank said.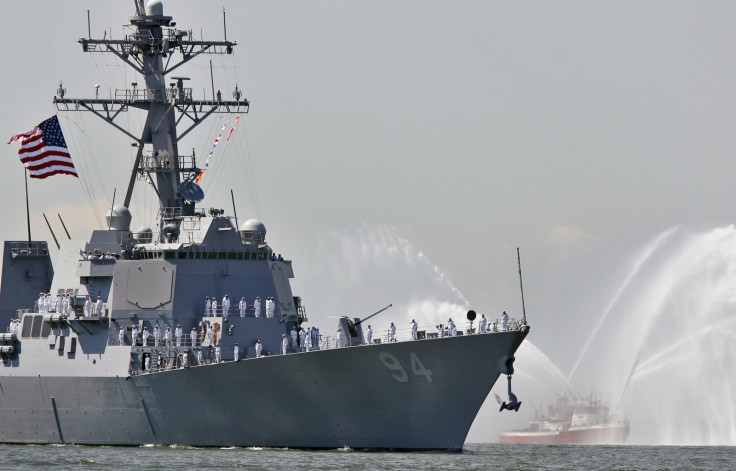 He highlighted that under international law, Mischief Reef was not entitled to a territorial sea as it was underwater at high tide before China built up structures on it.
"This was a statement to the Chinese," he said.
Speaking at a news briefing in Beijing, acting assistant secretary for East Asian and Pacific Affairs Susan Thornton, a senior US State Department official, on Friday (26 May) reiterated that Washington's policy on the South China Sea has not changed under Trump.
China has long blamed the US of deliberately raising tensions in the region by conducting freedom-of-navigation operations. However, Washington says that it sails in the sea to ensure access to key shipping and air routes while also aiming at showing support for free passage to vessels in the international waters.