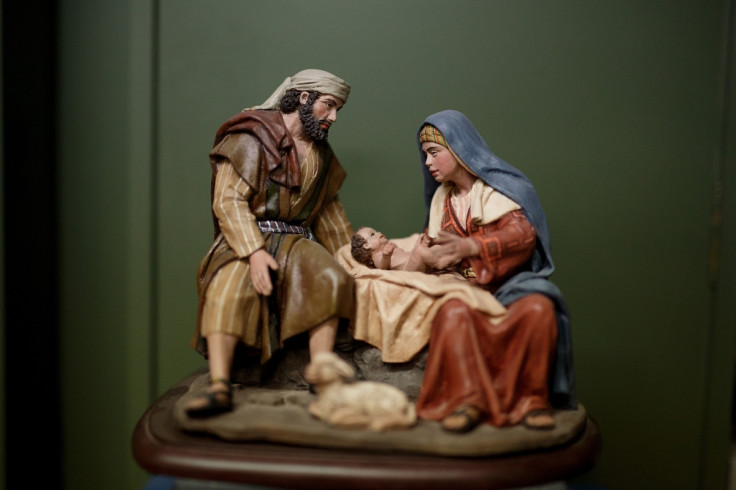 Well into Advent, families are preparing for Christmas by setting up their manger displays, a tradition that is prevalent across the globe. In Sycamore, Ohio, one man has continued his rather unique personal tradition of bringing gore and horror to his nativity scene.
A wooden manger, hay, twinkling lights and background music all accompany Jasen Dixon's collection of zombie nativity figures, right down to an undead baby Jesus. Mary, Joseph, the three wise men and the angel all have blood splattered, ghoulish faces and skeletal bodies.
The zombie scene was first built in 2014 for Dixon's haunted house business, 13 Rooms of Doom. He continued with the theme this year too, and like the last time, local people and religious groups are not taking kindly to it. Dixon has maintained that the theme has nothing to do with religion and describes it as something "artsy".
First came the direct complaints, then someone dropped Dixon a pamplet headlined: "GOD FROWNS UPON THIS MANGER SCENE". The paper went on to state, "Jesus has supreme power over death and evil; he is not a zombie.
"The God of the Bible is not only a God of love, but also a God of wrath. God never expresses even the slightest inkling of humor towards demons or, in this case, zombies."
The response of Dixon's supporters (and there are quite a few of them) to this is: Jesus did, after all, rise from the dead.
But it wasn't the goriness of the scene that landed its creator a fine of $500 (£333) a day. The nativity setup defies zoning regulations that do not allow for "accessory structures" in a front yard.
The family began taking down the scene but then decided to wait and watch. "I think it's the theme. It just rubs people the wrong way and it puts the spotlight on me. That's why they're coming down so hard on me," Dixon said.
So how does he plan to pay these daily fines? His crowd funding webpage that was previously being used to collect money for charity has been altered to ask for monetary support in paying the fines.
The page reads: "We are changing the terms of our our donations to cover legal fees that the township of sycamore is trying to threaten us with. They have given us a notice to remove the structure by 12/4/15 or be fined. If you love the nativity scene as much as we do, help us out!!"
Fans of the undead nativity scene have already donated a total of $940. For those who can't get enough of the concept, Arizona-based toy company NerdTalk Toys recently announced that it will begin selling a zombie nativity kit for the 2016 Christmas season.