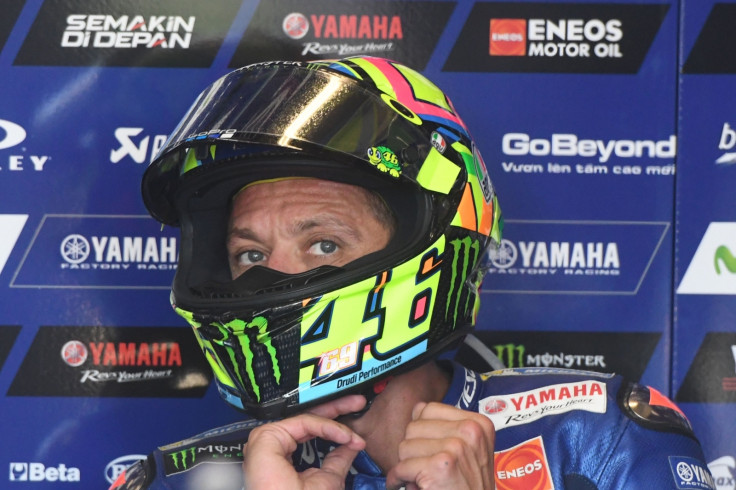 Seven-time MotoGP world champion Valentino Rossi has suffered a double leg fracture after an enduro training accident on Thursday (31 August) close to his hometown in Italy.
The Yamaha rider was immediately shifted to the Ospedale Civile di Urbino (Urbino Hospital) where it was revealed that he had sustained a displaced fracture to his tibia and fibula of his right leg.
"Following an enduro training accident on Thursday, August 31st, Movistar Yamaha MotoGP star Valentino Rossi was diagnosed with displaced fractures of the tibia and fibula of his right leg. The 38-year-old Italian rider will undergo surgery as soon as possible," a statement read on Yamaha MotoGP's official page.
Rossi's current injury was sustained on the same leg that he broke during practice in Mugello in 2010. Then he suffered a compound fracture to his tibia and was sidelined for 41 days. The current one being a double fracture could sideline him for a longer period.
According to Motorsport.com, the surgery is likely to happen on Friday (1 September) and a further update from Yamaha is expected on the same day. Rossi's father Graziano admitted that his son was not optimistic regarding the extent of the injury after the initial diagnosis conducted at the hospital.
"Valentino is not optimistic. To do the radiograph they had to cut the boot, and Valentino told me he feels very bad," the Italian rider's father told ANSA, as quoted on motorsport.com.
Rossi is currently fourth in the MotoGP world championship 26 points behind leader Andrea Dovizioso and it remains to be seen if he will return to action this season with just six races left until the end of the campaign.
As the news of Rossi's accident spread, Max Biaggi, his former arch nemesis, was one of the first to wish the MotoGP legend a quick recovery: "Good luck to Rossi. I hope isn't so bad. I understand the feeling, I feel sorry for him and his championship. Come back soon," the former Yamaha MotoGP rider wrote via his official Twitter account.