The Olympics may just be three days away but some of us are still reeling from the scandal that has shaken sport. Athletics' doping shame has affected countless people, but perhaps none as directly as New Zealand's shot putter Valerie Adams.
In London 2012, she stood on the podium with a silver medal, having finished second to Belarus's Nadzeya Ostapchuk in the shot put final. It looked like the end of an era for a crestfallen Adams, who could not hold back the tears as she addressed the media that night.
Her run of 24 straight victories, including Commonwealth, World and Olympic gold won four years earlier in Beijing, had been brought to an emphatic end.
"That is life, it is sport," she said, unable to hide her bitter disappointment.
Just seven days later, Ostapchuk was stripped of her gold medal after she was found to have tested positive for the banned substance Metenolone. Adams was instead given the gold medal and her dominance of the shot put reinstated.
While that night saw her become a double Olympic champion, London 2012 remains bittersweet for the 32-year-old. While she retained her gold, she was robbed of her moment to truly celebrate it. Understandably, her view on doping cheats is an unsympathetic one, to say the least.
Since then, Adams has added another World Championship gold (2013), a World Indoor Championship gold and Commonwealth gold (2014) to a formidable list of achievements, but has also been troubled by a string of injuries.
In a recent interview with The Guardian, she revealed in the last three years she has undergone surgery five times to address knee, ankle, shoulder and elbow problems.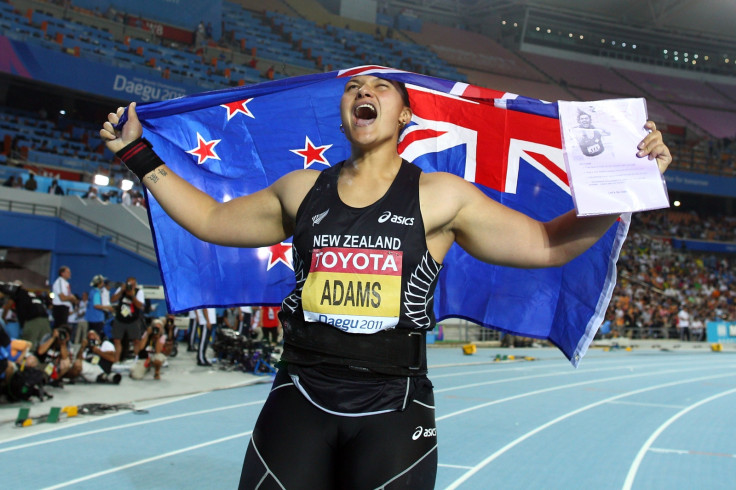 When you also take into account the competition facing Adams − China's Lijiao Gong, Germany's Christina Schwanitz and American Michelle Carter, a third Olympic triumph will surely eclipse everything else she has accomplished. Adams will also be without her coach and mentor Jean-Pierre Egger at her side, after the 73-year-old damaged his knee in a fall that meant he could not travel to Brazil.
In the past, the mere sight of her 1.93m, 260lb frame had her rivals disconcerted, but injuries have dented the invincible aura she used to walk with. In 2012 in London, her throw of 20.48m was enough to clinch gold. But she has not managed to break the 20m boundary in almost two years. A healthy 19.43m to clinch her 14th New Zealand national women's title in March was followed up this year by 19.68m and 19.69m in Morocco and Rome at Diamond League meets before a 19.63m for second in Birmingham shows she is climbing back towards that level.
Her status as one of shot put's greats is firmly intact, with the New Zealand, Oceanian, Commonwealth and equal World Championship records all still hers thanks to a personal best throw of 21.24 metres. But with many of those challengers around her closing the gap, that climb back to her best will need to continue in Rio.