The Vampire Diaries season 7 will not air any new episode on 26 November in the US due to the Thanksgiving holiday. The show will be back with episode 8 on 3 December. The series is currently focusing on Caroline's surprising pregnancy and Damon and Stefan's plans to kill Julian.
The series is taking an interesting turn by showing the chemistry between Lily and her two vampire sons. In the previous episode, the Salvatore brothers planned to kill Julian and to do so, they kidnapped their mother who reveals that due to a spell, her life is attached to that of her boyfriend and any attempt to kill him would be the end of her life.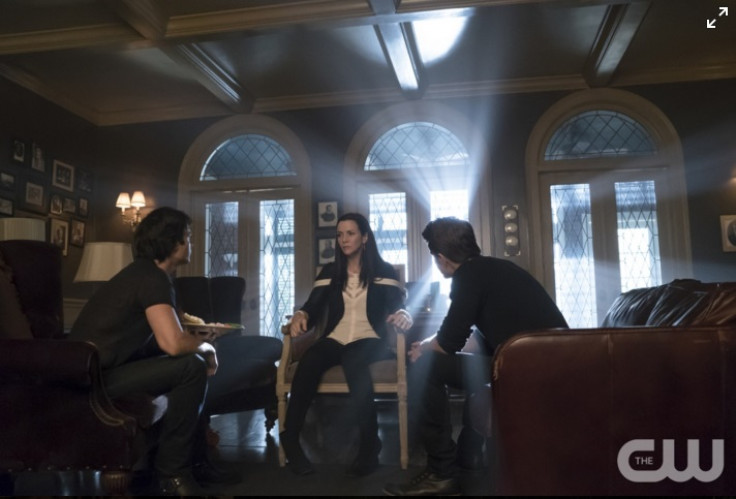 The episode also revealed how the brothers received an immense amount of torture from their father. They accuse Lily of doing nothing about it. In the upcoming episode, the brothers plan another attack on their apparent step-father who has become a threat to them.
Despite all her pregnancy tests turning up negative, Valerie tells Caroline that she is carrying the Gemini Coven twins that were inside Jo's womb. No test is detecting them because they are being safeguarded from everyone's eyes for safety reasons.
The official synopsis of the episode 8 titled Hold Me, Thrill Me, Kiss Me reads: "As Julian (guest star Todd Lasance) and Lily (guest star Annie Wersching) throw a party to celebrate Mary Louise (guest star Teressa Liane) and Nora's (guest star Scarlett Byrne) anniversary, Stefan (Paul Wesley) and Damon (Ian Somerhalder) set in motion a risky plan to eliminate a new threat posed by Julian. Meanwhile, following a major revelation uncovered by Valerie (guest star Elizabeth Blackmore), Caroline (Candice King) is forced to face her new reality, even as it threatens to destroy her relationship with Stefan. Finally, determined to do what's best for her family, Lily makes the most difficult decision of her life."
Caroline's pregnancy revelation has brought back hope for Alaric who was still reeling from the loss of his wife Jo. However, this will have a huge impact on the Steroline relationship. It will be interesting to see how the show progresses with so many twists.