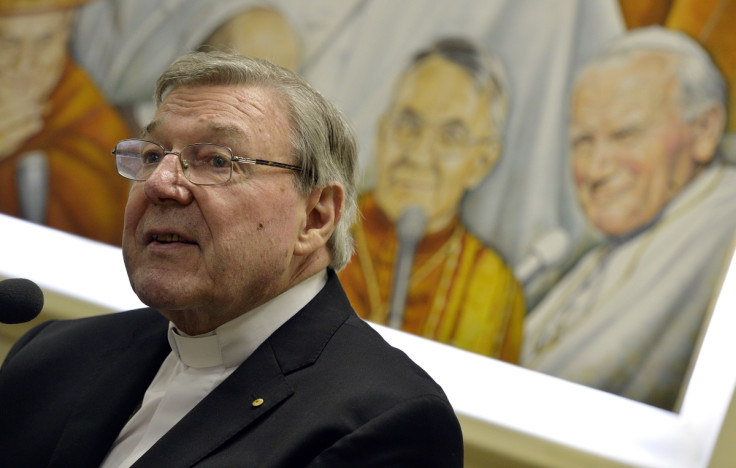 The Pope's chief treasurer has admitted the Catholic Church made "enormous mistakes" in handling issues of sex abuse, as he was grilled by an Australian investigative commission in Rome. Australian Cardinal George Pell testified via video link before the Royal Commission in Sydney on his knowledge of sprawling paedophile activities that allegedly took place in churches under his watch.
Sitting in a Rome hotel's conference room, just a few blocks from the Vatican, the 74-year-old denied being aware of paedophile priests operating in the Ballarat diocese when he served as priest there in the 1970s and 1980s. Speaking in front of a couple dozen Australian abuse survivors who travelled to Rome to witness the hearing, Pell conceded the Catholic Church's behaviour in the long-running abuse saga has been far from satisfactory.
"I'm not here to defend the indefensible," the Cardinal said. "The Church has made enormous mistakes and is working to remedy those but the Church in many places, certainly in Australia, has mucked things up, has let people down".
Pell was called to Rome by Pope Francis to overhaul the Vatican's murky finances in 2014. The investigative commission allowed him to give evidence from Rome, sparing the cardinal a long journey to Australia, over his frail health.
He is not accused of sexual abuse but of ignoring warnings about paedophile teachers and priests operating under him, an allegation Pell denies.
Asked about the abusive conduct of Christian Brother Edward Dowlan, who taught at Ballarat's St. Patrick's College, the cardinal admitted having heard "one or two fleeting references" but denied knowing the full extent of the teacher's criminal conduct. Dowlan was sentenced to six years behind bars last year for abusing 20 boys.
Pell also said he was aware of the habit of kissing boys of another Christian Brother named Leo Fitzgerald but didn't believe it to be sexual. "It was certainly unusual, but ... nobody said we've got to do something about this," Pell said.
He denied having anything to do with his superior's reiterated decision to move notorious paedophile priest Gerald Ridsdale between different parishes for years. Ridsdale, who committed as many as 130 offences against boys between the 1960s and the 1980s, was allegedly moved around Ballarat by Bishop Ronald Mulkearns, for whom Pell worked as adviser. Pell's testimony is to resume late on 29 February and is expected to continue for two days.