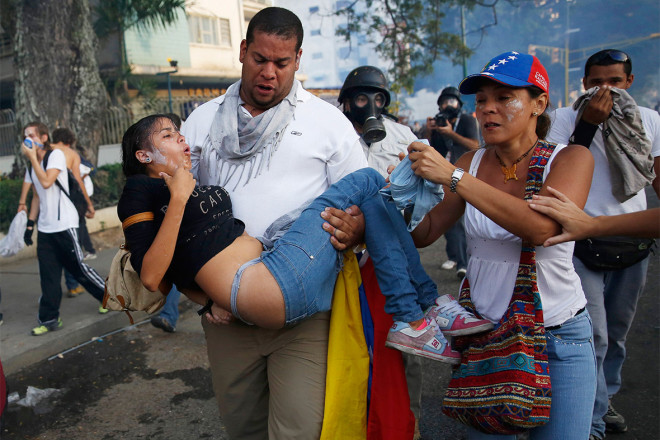 Venezuela's President Nicolas Maduro has expelled the Panama ambassador and three diplomats, giving them a 48-hour deadline to leave the country.
The Venezuelan government has declared them persona non grata, which is the most serious form of censure applied to foreign diplomats, who are otherwise protected by diplomatic immunity.
This decision to break diplomatic links with Panama comes a day after the Organization of American States said it is acting on Panama's request to summon a forum of foreign ministers to discuss the current crisis in Venezuela.
President Maduro said this move by Panama authorities was an attempt to intervene in the Venezuela's internal affairs and step over its sovereignty.
"Nobody is going to conspire with impunity against our country to ask for an intervention against our homeland. That's enough, enough. I call on the people to unite in defense of sovereignty, of independence," Maduro said at an event held to mark the first death anniversary of Hugo Chavez.
Meanwhile, United Nations human rights experts have asked the Venezuelan government to act on the allegations of arbitrary detention of anti-state protesters and use of violence against journalists covering the riots.
Six independent experts at the UN wrote to President Maduro seeking clarification on the allegations of grave abuses in a crackdown on anti-government protests, which have claimed 18 lives, with over 70 people still in state custody.
The human rights experts voiced their shock at the deaths and the bulk of arrests during the student-led demonstrations that have been happening in Caracas since mid-February.
"We are deeply disturbed by the allegations of multiple cases of arbitrary detention of protesters. Some were reportedly beaten – and in some cases severely tortured – by security forces, taken to military facilities, kept in incommunicado detention, and denied access to legal assistance," they said.
"These reports need to be urgently clarified and anyone who remains arbitrarily detained should be released without condition."
The six experts – Frank La Rue, Maina Kiai, Mads Andenas, Juan Mendez, Christof Heyns and Margaret Sekaggya – commissioned by Geneva-based UN Human Rights Council, said that the recent violence in the country needs to be "urgently and thoroughly investigated", and perpetrators brought to justice.
Leopoldo Lopez, Venezuela's leading opposition leader, has been charged with a number of alleged criminal offences including leading a "fascist" plot against the state, and is being held in solitary confinement in a military prison near Caracas, according to news reports.
"Leopoldo is in prison to defend the democratic rights of our country," Julieta Lopez, his Swiss-based aunt told reporters in Geneva.
"And if it is democratic, then we should be able to protest peacefully," she added.
Nevertheless, Lopez hoped that the treatment meted out to his nephew will only "awaken Venezuela".
Elias Jaua, Venezuela's Foreign Minister, met with UN Secretary-General Ban Ki-moon and clarified government's stance, saying that "only in three cases [of police killings and detentions] is it believed that this is due to illegal acts by police and which need to be brought to trial".
Venezuela's UN mission to Geneva denied the government's role in the abuses, and attributed the ongoing allegations to an "international disinformation campaign" directed to undermine the Venezuelan government.
Ban, however, maintained that Venezuelan authorities need to resolve the unrest with dialogue, and refrain from using a heavy-handed approach to suppress the protests.
The human rights experts stressed the need to guarantee freedom for peaceful assembly and expression.
"The reconciliatory dialogue that is so deeply needed in Venezuela is not going to take place if political leaders, students, media groups and journalists are harassed and intimidated by the authorities," they said.