With more than 100 people killed and dozens of others injured in the train derailment in northern India, speculation over suspected foul play has emerged. Though the authorities have bluntly said the cause of the derailment is yet to be ascertained, a senior politician from the ruling Bharatiya Janata Party (BJP) has hinted that this could even be sabotage.
In the early hours of Sunday, 20 November, 14 carriages of the Indore-Patna express jumped the tracks near the industrial town of Kanpur in Uttar Pradesh. Most of the 500-odd passengers were asleep when the train derailed.
Though officials from the ministry of railways have so far declined to speculate on the probable cause of the incident, Murli Manohar Joshi, a senior BJP parliamentarian, has sought a thorough probe since he thought the circumstances of the incident were suspicious.
Joshi, who represents Kanpur, and who was once the BJP president, said: "The reason behind 14 bogies [coaches] derailing could be many because at times one or two bogies derail due to some jerk or due to some default in the connecting link. But, in a go, if 14 coaches derail, then this creates a doubt, whether the incident happened because the railway tracks were broken or someone did it to defame the railways ministry of our country. Whatever be the reason, we demand a probe into the matter."
Local reports suggest a fracture in the tracks could have caused the derailment. Railways Minister Suresh Prabhu has ordered an initial probe even as rescue operations are being carried out.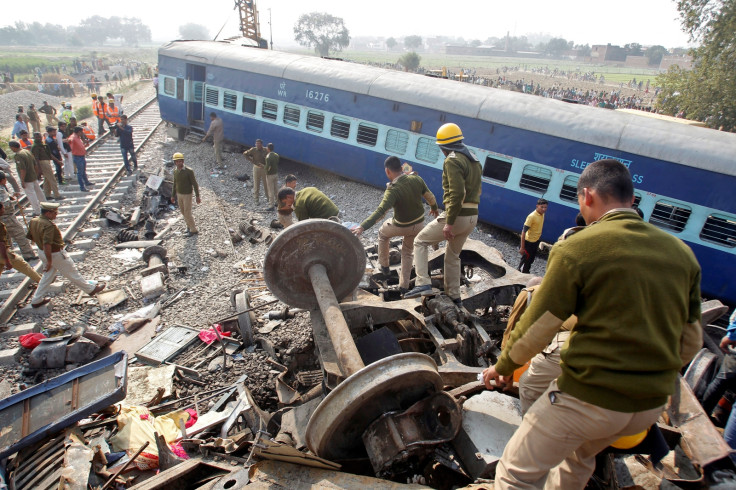 "A team will start an investigation into the cause of accident immediately. All necessary assistance has been provided to the affected, we are taking care," said Prabhu, who has rushed to the site of the incident.
Crushed by mangled coaches, most of the dead cannot be recognized, said the National Disaster Response Force (NDRF). The death toll is expected to rise as many of the injured are in critical condition and emergency personnel are unable to reach the trapped victims.
Both the state and central governments have announced compensation for the families of the victims. Condolences are pouring in from across the country.