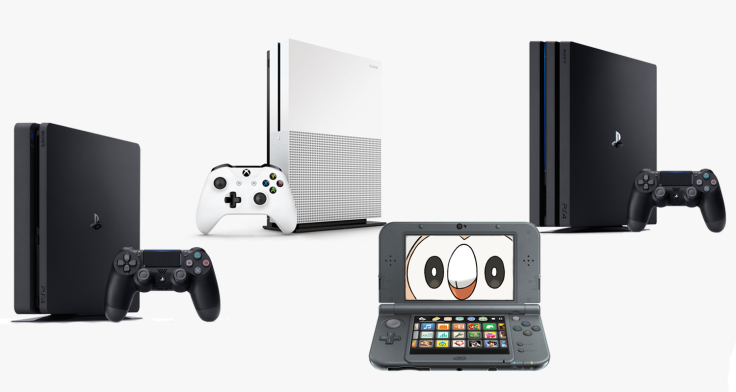 It's safe to say we all need a lovely Christmas to cap off an otherwise quite depressing year – and what better way to spread the festive cheer than with video games. As this current generation settles into a steady rhythm of quality titles, now is the best time get involved and benefit from a wide variety of excellent games.
With more consoles than ever available at a wider range of prices, and with numerous bundles on offer, potential buyers would be spoiled for choice.
To make things a little easier, we've put together a list of the best offers for each major console – and the one major handheld – currently on the market. We've also put together lists for the best games of 2016 and another for gaming accessories.
PS4 Pro
PS4 Pro is the most powerful video game console on the market, able to push a variety of current PS4 games (and many future titles) to visuals of up to and including 4K, with additional support for high dynamic range (HDR) lighting.

Naturally, it's also the most expensive console on the market, but it would be somewhat future-proofed.
There are no dedicated bundles from Sony, but multiple outlets are selling the console with a range of games that support the device.

PS4 Slim
The PS4 Slim is what players have christened the new base model for Sony's PS4, which replaces the original launch model. It's no more powerful and pitches at roughly the same price, the only difference is the design which fits with the design of PS4 Pro.
As for bundles, the PS4 Slim is being packaged with Call of Duty Infinite Warfare (with the Modern Warfare remaster) and Watch Dogs 2 (with the original game). It'll also be worth keeping an eye out on deals for the launch models, which would be cheaper.

Xbox One S
Xbox One S is the sorely needed hardware revision for Microsoft's house-sized console, and it's a beaut. It's been selling well too, having topped the US NPD charts for three months following its release. There are a tonne of bundles available for the One S, including for Fifa 17, Battlefield 1 and Gears of War 4.
Perhaps the most popular bundle however will be for Minecraft, that evergreen success that just won't stop selling. It even comes with a special Minecraft box to really appeal to those youngsters who just must own a 16th version of the game.

Nintendo 3DS & 2DS
The handheld market isn't what it once was, but Nintendo's 3DS has still managed to be a success. With the company's handheld business now merging with the home console side of things for the Nintendo Switch, the 3DS may be the last traditional handheld they produce in quite some time. It's a great device with a great catalogue of games, including Pokémon Sun and Moon – out on 22 November – which is sure to be a favourite this Christmas given how big a year the pocket monster series has been enjoying.
There are plenty of bundles out there selling Sun or Moon with a New 3DS console, and also Nintendo 2DS consoles with both Sun and Moon pre-installed. Nintendo is also offering a build-your-own bundle with the choice of different coloured New 3DS consoles, games including Pokémon X and Y, Animal Crossing New Leaf, Fire Emblem, Monster Hunter and more, an amiibo, a case and a gift for £229.99.
For all the latest video game news follow us on Twitter @IBTGamesUK.