A video showing an appalling act of animal cruelty has gone viral, prompting animal rights groups to demand police take action against a cruel dog tormentor. The 30 second clip – believed to have been filmed in India – shows a man repeatedly bashing a dog on the head because it cannot write the alphabet.
It remains a mystery why someone would expect a dog to be able to write the A to Z, and an even deeper one that someone would want it to.
In the clip, the abuser holds a pen in the terrified canine's paw and recites the beginning of the Roman alphabet, urging it to write out the letters on a piece of paper.
When the dog fails to obey the demand, the man strikes him powerfully on the face. The bully hits it an astounding 11 times in less than half a minute.
The video went viral in India, with many sharing it on social media. But a huge backlash from concerned members of the public has led to many users and websites taking down the footage.
Now many are hoping the sickening clip can be used as evidence against the man by law enforcement.
One Youtube commenter wrote: "I really want to know Who is this guy hitting the dog ... this is a horrible video!" Another said: "I hope he gets flogged like a slave someday."
Elisa Allen, Director at PETA UK, told the Metro: "This man is a coward and a bully who viciously slapped and upset a dog simply to assert his own pathetic idea of dominance. The rise of smartphone technology and social media has given twisted individuals such as this one some fleeting viral fame.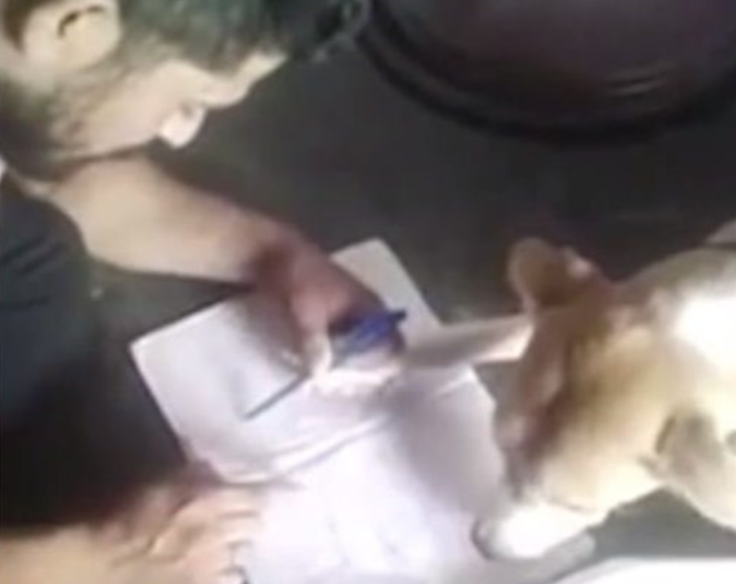 "PETA urges authorities to use the same technology to ensure that this man's deliberate and cruel attack on 'man's best friend' sees him charged and convicted under the law before his feelings of inadequacy take an even greater toll.
A spokesperson for RSPCA added: "Sadly, a lot of people think it's funny to share pictures and videos online of animal cruelty and abuse. However, many people are not prepared to accept the things they see online and are quick to report videos like this to organisations, such as the RSPCA, and we applaud them for standing up against animal cruelty."
Anyone who is concerned acts of suspected animal cruelty they have seen online in England or Wales should report it by calling the RSPCA's 24-hour emergency hotline on 0300 1234 999.