Viral Catcalling Video 10 Hours Walking in New York Remade in Rome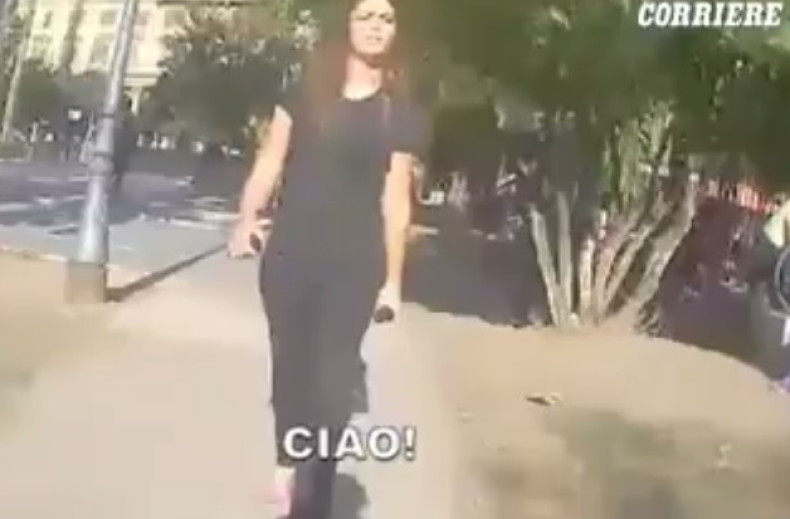 An Italian version of the viral New York 'catcalling' video has been reproduced in Rome with very similar outcomes.
The video, featuring 26-year-old Rachel Brancatisano, is in an identical format to the film created by anti-street harassment organisation Hollaback! and marketing agency Rob Bliss Creative which has been viewed more than 32 million times.
For the 10 Hours Walking Through Rome video, Brancatisano documents how she was catcalled by men more than 100 times while walking through Italy's capital in just a plain t-shirt and jeans.
The video, released by Italy's Corriere TV, shows how men approach the 26-year-old to shout out a series of "ciao bellas" (hello beautiful), ask for a hug and even compare her to Cleopatra.
Brancatisano also received some comments in English, including "Are you married" and "Single in Rome?"
The video was a response to the success of the original version, 10 Hours of Walking in NYC as a Woman, featuring actress Shoshana Roberts.
While the New York video was praised for highlighting the levels of intimidation women have to endure when walking down the street, it also faced accusations of racial bias for appearing to mainly feature mainly black and Latino men.
The video's director, Rob Bliss, admitted that some white men were edited out of the video because the clips were unusable, but added this was the same for men of all races and the video is still an accurate portrayal.
He told IBTimes UK: "The question which was asked of me was 'Did I edit out white people?' They didn't say 'Did you edit out white people and black people, Hispanic people, older people younger people, Asian people?' [to which] I would have said yes."
"I wanted this video – if you can believe it – to be as non-controversial and as neutral as I could possibly make it, because of that I had to have quality audio and quality video so I could truly capture what happened."