Hopes are high among analysts and investors of a major shake-up of the Volkswagen (VW) supervisory board, given that such a measure was imminent following its involvement in the recemt emissions scandal. However, CEO Matthias Müller, who is set to announce his long-term vision for the company — dubbed Strategy 2025 — on Thursday(16 June), does not seem to have included any board changes in his plan.
The focus of Müller's long-term vision is expected to be on fixing the US cars affected by the emissions scandal, saving costs and increasing the company's profitability.
A joint statement from the brand and the works council, released last week, confirmed that the broad outline of "Strategy 2025" would include three major measures – the first is electrification and ensuring that the German automaker is a leader in emission-free cars; secondly, kit wants tooffer on-demand ride services to prepare for the shift towards self-driving vehicles; and thirdly, to save costs without sacrificing jobs.
The Financial Times quoted a spokesperson for the company as saying that there will not be any "big changes" in the supervisory board.
Stressing on the company's current goals of increasing profits and reducing costs, Dr Karlheinz Blessing, head of human resources, reportedly said in the joint statement that the Volkswagen brand "must increase productivity and profitability and reduce costs".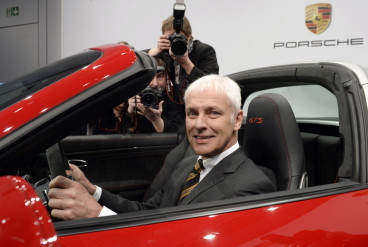 A person familiar with the Porsche and Piech families - that both hold major stakes in the company - reportedly said that in place of corporate governance measures, Strategy 2025 will have plans to fix the US cars that were fitted with emission-manipulating devices.
The German automaker had suffered a major setback after, in 2015, in emerged that its vehicles in the US were cheating emission levels with the help of defeat devices fitted by the company in its cars. The company admitted installing such software in up to 11 million diesel-powered vehicles worldwide.
Müller has also said he wants to decentralise decision-making and delegate more power across the company's 12 brands.
One of the more major areas of focus in the CEO's plans will be the proposed electrification of cars across the VW range. The company has reportedly set a target of making one-in-10 cars across the group electric, which means at least one million cars will be electric or hybrid by 2025.