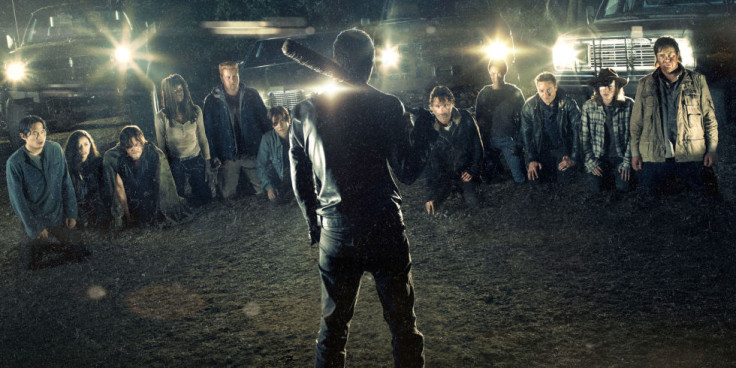 At the end of season six, one of the many things The Walking Dead fans were pondering was: 'who did Negan kill?' after the villainous character, played by Jeffrey Dean Morgan, attacked his victim with the barbed-wire bat lovingly named Lucille.
The AMC show has now thrown up clues to the victim's identity with a series of character posters with each potential Negan-victim staring at the infamous weapon.
They include most of The Walking Dead cast including Rick (Andrew Lincoln) Daryl (Norman Reedus), Glenn (Steven Yeun), Maggie (Lauren Cohan), Carl (Chandler Riggs), and Michonne (Danai Gurira).
Last week, IBTimes UK reported that AMC released an image of the infamous villain Negan, ahead of the fall premiere of The Walking Dead season 7 – with executive producer Greg Nicotero revealing the victim's face in the first episode. "Yes, who was at the receiving end of Negan's bat will be revealed in the first episode," he told Entertainment Weekly.
Based on the comic book series by Robert Kirkman, and developed by Frank Darabont, the unresolved end to season six infuriated loyal fans of the show but Nicotero claims the beginning of the highly-anticipated next season will be worth the wait.
"The first episode, obviously, was pretty intense and pretty brutal, and pretty sad and emotional and definitely a challenge for everybody involved to sort of take us to this different place, but the show has a lot of really unique flavours to offer," he said.
"Obviously, we'll find out [who Negan killed] in the first episode. Truthfully, in terms of the structure of it, we're still editing it right now. We're still playing around with that particular episode. It's not finished yet so I really can't say," he added.
The teaser posters were released ahead of The Walking Dead's panel at this year's Comic-Con which will feature Lincoln, Reedus and Morgan on 22 July.
You can view all of the posters on AMC's Instagram page.