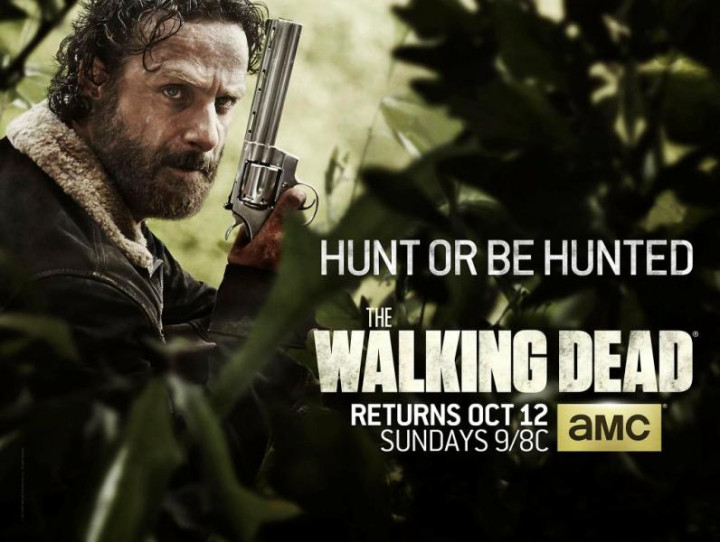 The start of Walking Dead season 5 is more than a month, but spoilers and teasers from the sets keep on coming to excite its fans.
While the suspense about the still remains, some grim pictures have emerged suggesting that one fan favourite may lose his limb, while another one may die.
The season 4 of AMC's blockbuster zombie series ended with a cliff-hanger moment when Rick Grimes (Andrew Lincoln), Daryl Dixon and their group was trapped inside the Terminus, which is rumoured to be swarmed by cannibals.
The trailer of the upcoming season, however, has revealed that the group indeed escapes Terminus but future about the safety of the group is largely speculated by fans.
Actor Norman Reedus added more spark to the above rumour by posting some disturbing on-set images from the Walking Dead set.
Nicotero n I just got hitched pic.twitter.com/8TjpAd6ig6

— norman reedus (@wwwbigbaldhead) September 4, 2014
The pictures suggest a huge moment in the popular series which suggests one of the most important and fan favourite character may lose his hand and there are every possibility that the character in none other than Daryl Dixon.
I said yes pic.twitter.com/wz4hd9pBtd — norman reedus (@wwwbigbaldhead) September 4, 2014
The actor posted a series of pictures of himself along with producer and makeup effects guru Greg Nicotero. In the pictures, Reedus took cues from the recent 'Daryl is gay' controversy and posed as if proposed by the show producer.
Divorced pic.twitter.com/y13IGQ2pK5

— norman reedus (@wwwbigbaldhead) September 4, 2014
What was more interesting was, his hand was blood stained in one picture, and in another the bloody hand was severed and lying on the ground.
According to Robert Kirkman's comics, Rick Grimes had his right hand chopped off by the insane Governor, Screenrant reported.
However, the AMC show has avoided showing that part until now, but now it appears that the severed hand plot may be a reality in the fifth season, but with another fan-favourite character: Daryl.
Will Daryl be able to fight without his hand? Share your views in the comment box below.
The Walking Dead premieres on 12 October on AMC networks.