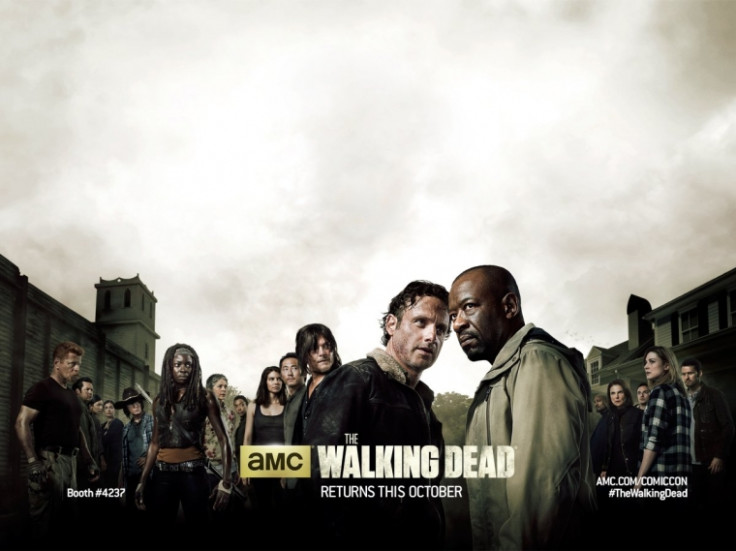 The Walking Dead fans should brace themselves for some exciting updates and revelations coming their way.
It looks like the release date for the first trailer of The Walking Dead season 6 is out. As per reports, the cast and crew might reveal the first look along with a premiere date for the next season - on 10 July, during The Walking Dead panel at the San Diego Comic-Con.
"[TWD] is staging its Season 6 panel at 12 pm PDT (3 pm for East Coasters) in Hall H. That is traditionally when they debut the big first trailer with enticing footage from the first five or six episodes. That may also be when we get confirmation on the official premiere date. There's no saying they will definitely do that this year, but don't be surprised if the trailer includes the premiere date at the end," states The Moviefone Blog.
While the first poster for TWD's next season confirms that the show is returning to AMC in October 2015 - fans and viewers strongly believe that the season 6 premiere date is 11 October.
Meanwhile, Spoiling Dead recently posted a leaked description of a key season 6 scene which hints at the death of, or serious injury to, Abraham (Michael Cudlitz).
Check out a summarised version of the scene description below: [Warning: Potential Spoilers Ahead]
Earlier this week there was a scene being filmed that showed a truck hanging off the edge of a bridge. The scene involves Abraham and a walker impaled by one of the poles. He is hanging in mid-air off of the bridge. There are dead bodies all around the ground just off of the bridge. All in camo-clothing similar to this walker. Abraham notices the walker impaled on the pole has an RPG on its back.
Abraham attempts to climb onto the fence that is hanging off of the bridge to try to pull the RPG off of the back of the walker. He fights the walker, using his right arm to push the head and torso away from him. The walker is violent, swinging back and forth, causing the fence to shake and bend. There is a struggle and suddenly Abraham screams, scrambles back several inches and collapses, his hands and arms landing dangerously close to the walker who is still attempting to attack and bite anything within reach.
There was a little bit of weirdness happening with Michael on this day as well. He received some Secret Service treatment and was escorted around by crew members with multiple umbrellas.
End of the road for Abraham? Or some serious injury? We'll just have to wait and find out.