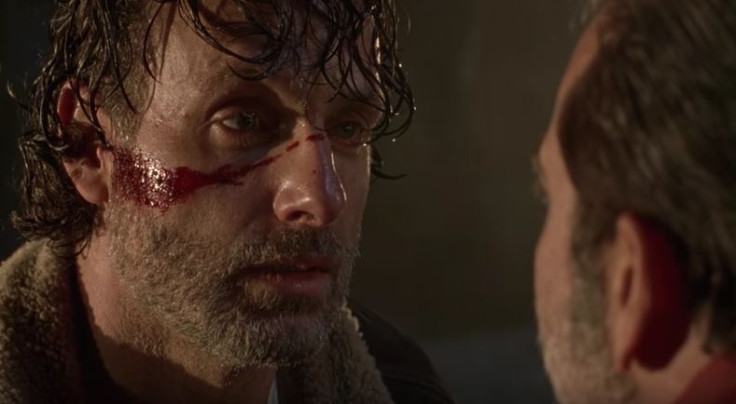 The Walking Dead season 7 returns with another episode this Sunday (30 October), which is expected to be as terrifying as the opening chapter. After Negan's fatal blow was revealed in the premiere episode, Rick Grimes and Daryl Dixon need a miracle to recover from the enormous guilt post Glenn and Abraham's death.
Click here to watch the second episode titled The Well online via live stream (only in the US).
Both, Rick and Daryl are the most powerful personalities from the Alexandria Safe Zone, but the team has paid a heavy price because of their abrupt decisions. Rick's careless killings have led the group to suffer Negan's wrath, who killed Abraham with his baseball bat Lucille. He also took Daryl hostage and asked Rick to pay a price for him and the latter's fate still hangs in the balance.
Daryl could have remained silent, but his emotional outburst angered the Savior leader further, who killed Glenn. It will be interesting to see how the duo will recover from their worst phase in the post apocalyptic world.
"This is the lowest point in a whole calendar of bad days in the zombie apocalypse, this is Rick's worst," Andrew Lincoln told Hollywood Reporter. He also teased that his character would need plenty of time to recover from Negan's torture.
"It's going to take an enormous amount for him to recover – and everybody else to recover – from this devastating double blow of grief and trauma. There's a great Nelson Mandela quote that has been bouncing around in my head the whole season: 'The greatest glory in living lies not in never falling but in rising every time we fall'," he said.
Steven Yeun, whose character Glenn died a horrific death due to Daryl's hyper act, has urged fans not to blame the crossbow warrior for the tragic outcome. "I think Daryl is a character that will blame himself," Yeun said during a Talking Dead Q&A session. "I think that's enough for him. Even if it's not real or even if it's not accurate or fair, I think he would shoulder that type of burden. It'll be interesting to see what happens with that and I'm sure Norman will crush it."
Apart from the miserable predicament of the Alexandrians, the second episode will introduce a flourishing society through Morgan and Carol's eyes. The duo are set to meet King Ezekiel in his Kingdom. Though the society looks perfect, the official synopsis hints at "dark mysteries behind the curtains".