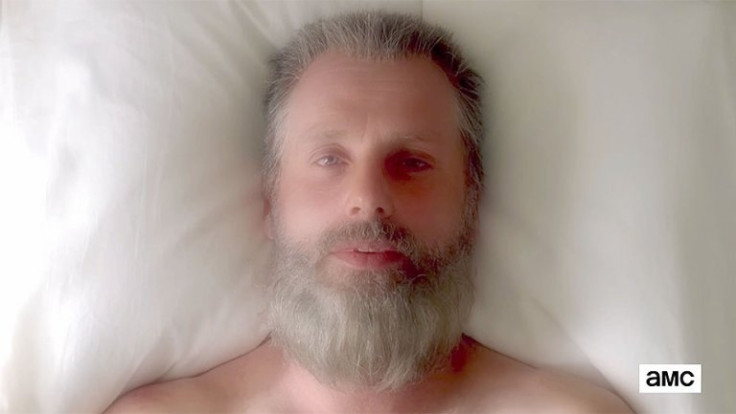 Back in July this year, AMC released a five-minute long trailer to offer a glimpse at what to expect from the impending war between Rick Grimes and his arch nemesis Negan. Although the plot point of the upcoming season remains predictable the trailer threw a major shocker by showing the 'old man Rick.'
In the clip, the Alexandria Safe Zone leader was seen opening his eyes as an old man while still lying on a neat bed. The trailer sent internet into meltdown and many thought the eighth season will feature a massive time jump.
Andrew Lincoln, who plays the highly popular character, also revealed that he was equally shocked to learn about the plot twist. "I was shocked and kind of excited by it," he told Entertainment Weekly.
The actor praised the show creators for their excellent storytelling in the upcoming season. "My instinct was what a great storytelling device. That was my instinct. I thought it was very interesting, and also gives us an opportunity to do something else a little ahead of the game, which I think is very, very neat," he said.
The English actor, however, did not let any spoiler slip from his mouth regarding a time jump in the zombie thriller. "I mean, it's a gray Rick. It's an older Rick. So by virtue of the fact that you see, that means that it's in the future."
Lincoln urged fans to wait for the premiere episode which the show runners promise will be great as it will be the 100th episode of the highly popular AMC show.
"It will become somewhat clearer after the October premiere. Then again, it may not be. It maybe still is somewhat opaque. I think that that's possibly all I can say on the matter," he said.
The synopsis of TWD season 8 has teased that Rick will bring an "All Out War" to Negan and his forces as he grows stronger by joining hands with the Kingdome and the Hilltop forces. But this time the fight won't be for survival, rather it will be fought to promise a better future for the remaining survivors of the zombie apocalypse.The Walking Dead season 8 will return on 22 October on AMC.