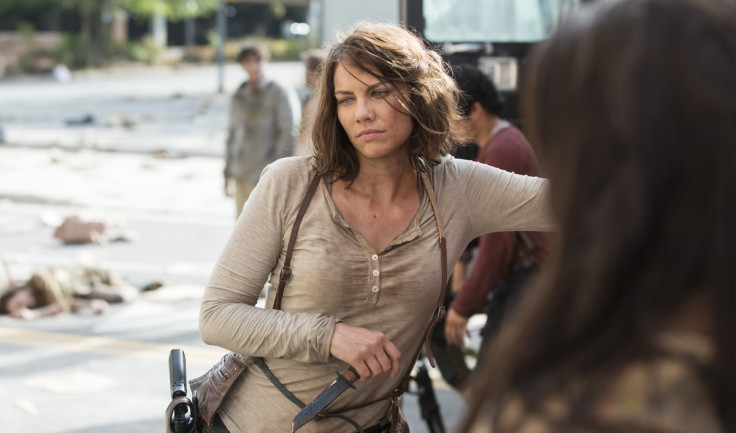 Avid fans of The Walking Dead may have pondered the whereabouts of Maggie Green – a main character and survivor of the AMC hit series – since she vanished following her husband's brutal murder.
The character, played by Lauren Cohan, headed off to Hilltop to receive medical attention for complications with her pregnancy after Glenn (Steven Yeun) was killed by Negan and his ruthless spiked baseball bat, which he calls Lucille, in the season premiere.
However, she will return for Sunday's Go Getters episode. Tensions rose when Father Gabriel (Seth Gilliam) wrongly told the Saviors she had died – but she is very much alive and kicking. She is still in Hilltop with Sasha (Sonequa Martin-Green) and being treated by Dr Carson (R. Keith Harris) – the obstetrician we met in season six.
Savvy Maggie negotiated a deal with Gregory whereby she promised that the Alexandrians would take out the Saviors in exchange for half of Hilltop's supplies. The deal didn't work out and Maggie has come to realise how strong and ruthless Negan and the Saviors actually are. Despite viewers' worries, The Walking Dead writers haven't let Maggie miscarry... as of yet.
Elsewhere in this week's fifth episode, Carol confronts Enid as she's climbing over the Alexandria wall. She is in fact off to visit the aforementioned Maggie – but Carl thinks it's a bad move.
Enid tells him: "I'll be fine", only for the one-eyed Carl to come back with: "I have better aim than you." Enid later says sorry and claims she did not mean to be rude, but it falls on deaf ears as Carl tells her he's not interested in protecting her any longer.
The Walking Dead airs Sundays at 9 p.m. on AMC.