Rapper Tyga has been dating the youngest member of the Kardashian clan, 17-year-old Kylie Jenner, since September 2014. Brody Jenner's most recent Instagram post might suggest that he has a bit of a problem with his half-sister's relationship with the 25-year-old.
The now-deleted picture explicitly depicted an illustrated tiger and a dark-haired girl performing a sexual act and was accompanied by the caption: "Licking 4 my keys."
The shocking image was only up for a few minutes but some fans who did spot it in that brief time, couldn't help but think it was directed towards the couple because of both the strong resemblance the girl had to young Jenner and the fact that it made reference to musician Tyga's stage identity being a play on the name of the animal.
Brody's girlfriend Kaitlynn Carter has since told TMZ that the seeming comparison was purely coincidental. She continued to say that one of Jenner's friends owns a t-shirt printing business and when he and Brody were searching for funny memes and images to put on the t-shirts, they came across that one and finding it amusing, chose to share it with his Instagram followers.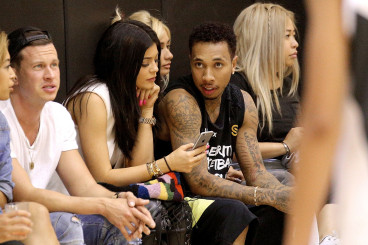 Carter finished her statement to the US website by suggesting that Brody removed it from his social media page because she told him it wasn't funny.
Alternatively, a source has exclusively told HollywoodLife.com recently that Brody has "not [been] acting like himself these days," which could explain the bad judgement when it came to posting the graphic illustration.
Mostly likely referencing Brody's parent Caitlyn Jenner's recent transition from male to female, the insider continued: "All this change in the family has taken a big toll on Brody.
"He's in a weird place right now and people are worried about him. Brody is extremely protective of his family. He's always looked out for Kylie and Kendall. They're still his baby sisters, so you can imagine how hard it's been on him to watch them transform into these sex symbols.
"He's been pretty vocal about not approving of Kylie's relationship with Tyga, but he doesn't have any say in it," they added. "He gets so frustrated because no one in the family listens to him. But obviously this was a terrible way to make a statement. It just shows that he's not thinking straight right now."