Washington Post reporter Jason Rezaian was charged with espionage and three other crimes in Iran, his lawyer told the Post on 20 April. Rezaian, who is the Post's Tehran bureau chief, was also charged with "collaborating with hostile governments" and "propaganda against the establishment".
The reporter, who was arrested nine months ago on 22 July 2014, is accused by the Iranian government of collecting classified information, his attorney Leila Ahsan said. The indictment alleges Rezaian wrote to President Barack Obama, proving his contact to a "hostile government".
According to the Post, the Revolutionary Court has yet to officially reveal the charges against the 39-year-old Iranian-American. He was first allowed to meet with a lawyer on 20 April since being incarcerated in Tehran's Evin Prison.
"All of the items and accusations are the ones that I mentioned and I cannot divulge details because the trial has not yet begun," Ahsan said in a statement to the Post. She said Rezaian's charges are connected to his coverage of Iran.
She continued: "Jason is a journalist, and it is in the nature of his profession to gain access to information and publish it. My client, however, has never had any direct or indirect access to classified information to share with anyone."
In a statement released on the newspaper's website, executive editor Martin Baron said, "The grave charges against Jason that Iran has now disclosed could not be more ludicrous. It is absurd and despicable to assert, as Iran's judiciary is now claiming, that Jason's work first as a freelance reporter and then as The Post's Tehran correspondent amounted to espionage or otherwise posed any threat to Iranian national security."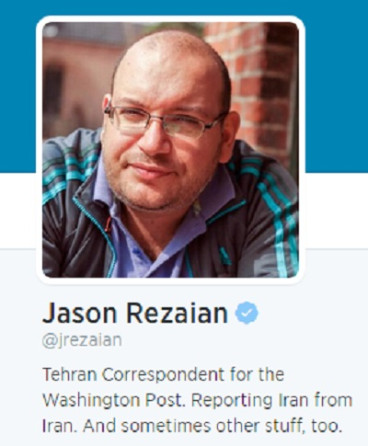 According to the Post, the White House and the State Department have both criticised Iran for the case. White House press secretary Josh Earnest said: "If the reports are true, these charges are absurd, should be immediately dismissed and Jason should be freed immediately, so that he can return home to his family."
While the Revolutionary Court has not set a trial date for Resaian's case, his family believes it may be soon. The Post reported that the case's judge, Abolghassem Salavti is known for his severe sentences.
"Repeated requests for bail and end to the detention order against Jason have been rejected by the court thus far," Ahsan said. "Considering that the investigation has ended, I believe there is no legal precedent for extending Jason's detention."
The charges against Resin carry a maximum sentence of 10 to 20 years in prison, the Post reported.