The US has said it is "troubled" over Russia's crackdown on leading opposition leader, Alexei Navalny, as thousands of people participated in anti-corruption rallies across the country. Condemning the clampdown, Washington said it is closely monitoring the situation.
In a statement, the State Department said: "The United States strongly condemns the detention of hundreds of peaceful protesters throughout Russia on Sunday. We were troubled to hear of the arrest of opposition figure Alexei Navalny upon arrival at the demonstration, as well as the police raids on the anti-corruption organisation he heads."
Protesters took to the streets in 99 cities across Russia in what is being termed as one of the biggest anti-corruption demonstrations against President Vladimir Putin.
Even as the government refused permission to hold such rallies, around 8,000 protesters had gathered in central Moscow and the government deemed 17 rallies illegal, an organisation headed by Navalny said.
Around 130 people were arrested in St Petersburg, according to reports.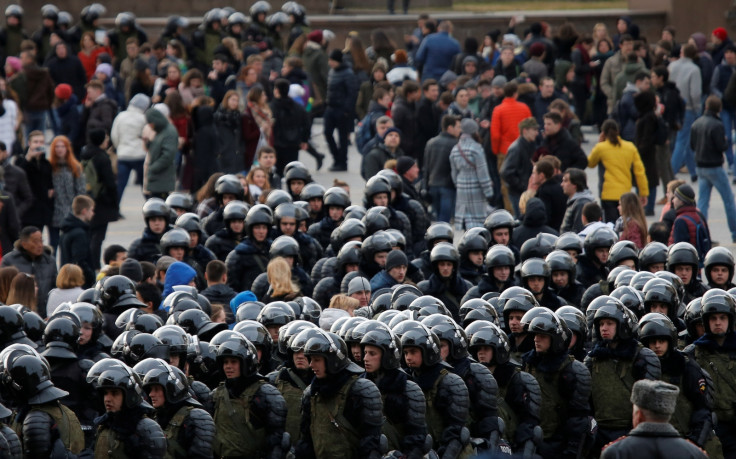 Navalny, a top critic of Russian President Vladimir Putin who hopes to be a presidential candidate in 2018, was bundled into police vehicle on Sunday (26 March) as he attempted to join the rally he organised. He could face a fine of up to 19,962 rubles (£279, $350) or end up doing community service for 100 hours.
Attempting to downplay his arrest, Navalny, 40, asked protesters not to lose hope and urged them to march ahead. Close to 600 protesters have been detained by the police for taking part in the unsanctioned rallies so far but the exact number of arrests is yet to be revealed. Though there has been a heavy police presence, the protests have largely remained peaceful.