UK police officers Tasered a suspected criminal in Birmingham today (15 September) in front of nervous shoppers reeling after news of a terrorist attack on the London Underground.
Eyewitness video footage shows the British Transport Police (BTP) men screaming at the man to drop his knife moments after they stunned him.
The officers did seem to appreciate that he was out cold – or wish to take any chances – as they demanded again and again that he drop the blade.
Eventually, they realised he was incapacitated and moved in to to grab the weapon, which was no mean feat given that his hand was gripping it tightly.
Four officers managed to pry the white handle from the man's hand and handcuff him on the tiles of Birmingham New Street.
"I was exiting the Apple Store when people started moving away, not panicking as such, but a bit of a jostle," said Darryl Godden, who captured the footage.
"I heard them shouting 'drop the knife' and Taser warnings and the crowd moved away hurriedly. Once I could get past the people he was on the floor in the position you see in the video."
Although BTP officers attended the incident, West Midlands Police are now running the investigation into alleged drugs offences.
Police around the UK are on high alert after a terrorist-related explosion on an underground train at Parsons Green Station this morning.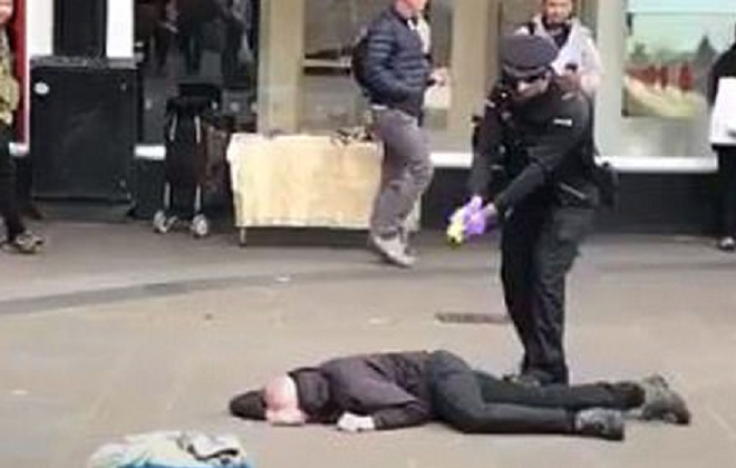 A spokesperson for BTP said, "A man has been arrested outside HSBC bank near Birmingham New Street station at 1.15pm today.
"Officers were initially responding to a call regarding concern for welfare outside the station when a man was seen with a knife.
"He was subsequently arrested on possession of bladed article and has been taken to hospital. Tasers were drawn but were not used on the man. The incident is believed to be drug related."