Watch Fear The Walking Dead season 2 finale live online
The series will air the final two episodes titled Wrath and North back-to-back on 2 October on AMC.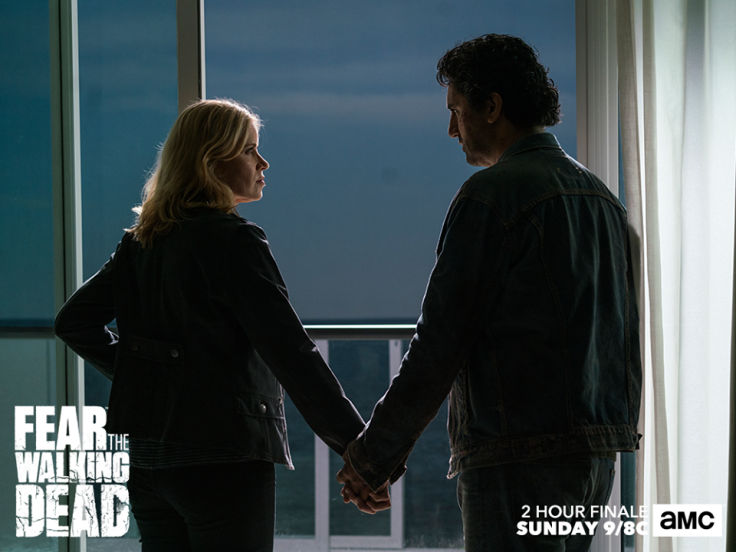 Fear The Walking Dead season 2 needs to bring a major twist to keep viewers glued to the show for another season as the AMC zombie series has been renewed for season 3. Fans have said that most parts of season 2 have been uninspiring.
The two-hour finale could feature some major changes in the prime character's lives as they are on the verge of making another critical decision. Travis Manawa and Madison Clarke are still struggling with their broken families in the midst of the zombie apocalypse. And the upcoming episodes will show how they will survive the apocalypse and at the same time find their missing sons.
Where to watch
Click here to watch the episode live online on the network. In case you miss the episode during the screening time, you can download the AMC app via Google Play, iTunes, Xbox, Amazon and Netflix to watch it on the go.
Madison's son Nick decided to part ways with his mother and sister to search for the unknown. Initially he tumbled, but finally managed to make peace with the infected world and became a member of the Colonia. According to the official synopsis of the finale episode, he will become the leader of the community, most probably for his fearless bargaining skills that worked in favour of the survivor group.
Travis's son Chris, on the other hand, is turning into a psychopath with each passing episode and in the last episode fans saw a heartbroken Travis reunite with Madison, only to tell her that his beloved son left him to find a way of his own.
Chris is considered one of the most hated characters on the show. And chances are high that his death may do some good for the show. Currently his fate is unknown and Travis is still mad at losing him.
The official synopsis of the two-episode finale reads as follows:
New refugees throw off Travis; Nick must decide if he should stay at the Colonia with Luciana or leave. When Travis' rage causes unrest at the hotel, Madison has to choose whether or not she will stand by him; Nick becomes leader of the Colonia as Narcos close in.
Fear the Walking Dead will return on AMC on 2 October at 9pm EST.
© Copyright IBTimes 2023. All rights reserved.