The Flash season 2 returns with an all-new episode on 10 May, which will pick up from where the previous episode left off, with Barry disappearing after the particle accelerator explosion. The Kevin Smith-directed episode is titled, The Runaway Dinosaur, which will air on Tuesday at 8pm EST on The CW.
The official synopsis of the episode reads as follows:
Click here to watch it online on The CW website in the US.
The latest promo of the episode shows Barry stuck in a weird timeline, where his mother, Nora Allen is alive. Barry is seen walking down a cemetery with Iris West, and they are holding hands, which is a good news for West-Allen fans.
Meanwhile, back in Central City, Harrison Wells will use Cisco Ramon as an anchor to "pinpoint whatever corner in the universe Barry is struck [in]". While the Speedster will try to figure out a way out of the weird universe, Iris and Cisco will be left to fend off a returning meta-human Girder.
Kevin Smith who is also a big fan of the show, spoke to IGN about directing The Runaway Dinosaur episode. The director shared, "I love the show so much that I was like 'Heavens, I bet I could learn something! Show me how you do this every week. And so oddly enough, after eight days of directing The Flash, I became a far better filmmaker than when I started."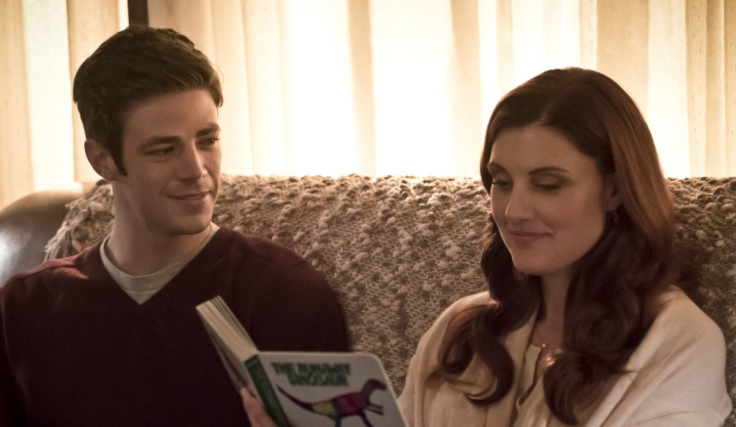 Further, Grant Gustin who plays Barry in the show, praised Kevin Smith and said that fans will really enjoy the special episode. The actor wrote on Instagram, "I can't wait to see next week's episode. Barry's journey at the end of this season was a torture and a joy to go on. But this episode in particular was in the best hands possible with @thatkevinsmith. He came in with such exuberance about the project that the entire crew and cast was uplifted."
He explained, "We were near the end of a 23 episode season and run down but Kevin reinvigorated us and I think together we all made a very special episode that tv, comic book, and Flash fans will really enjoy."
To know where Barry is stuck and how he will return to his timeline, watch The Flash season 2 every Tuesdays on The CW.