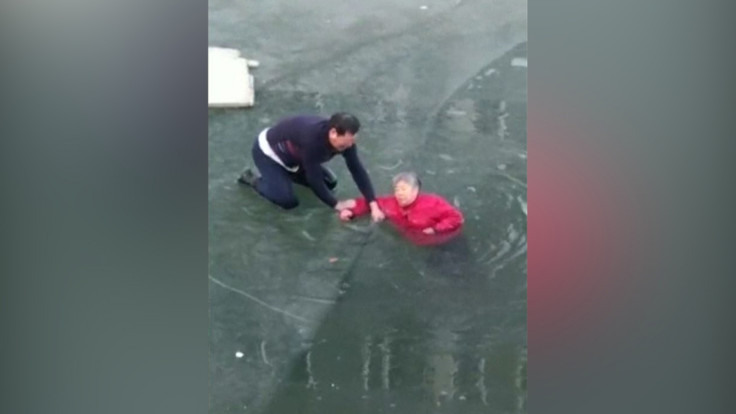 A 70-year-old woman trapped in an icy river in northern China's Hebei province was rescued after a brave man crawled across a frozen river and smashed some of the ice with his hands on Tuesday morning (26 December).
According to the South China Morning Post (SCMP), Shi Lei, 54, saw the elderly woman fall while he was riding his bike. He immediately rushed to help her out.
A video posted by People's Daily, China shows the man pulling the woman out after punching the ice with his bare hands.
The clip also shows another man, who was present at the site, helping Lei and the woman by holding onto them so that they do not fall into the freezing water. Other people standing there can be heard saying that an ambulance was on its way.
The elderly woman was then taken home by Shi and others.
"It was really freezing in the water, but I didn't have time to think about it at the time," Shi was quoted as saying by Thepaper.cn (via SCMP).
He also added that after the rescue work he went home, took a shower, drank a bowl of ginger water and then went to work.
It is not clear how the woman fell into the river.
You can watch the video here: