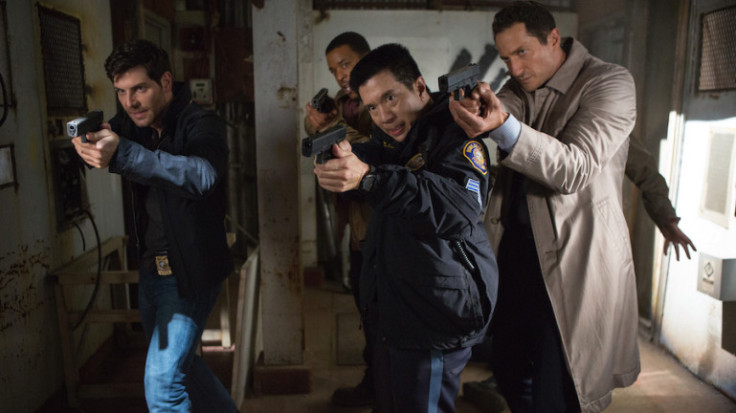 Grimm season 5 returns with its fall finale chapter where Nick Burkhardt and Theresa Rubel aka Trubel will learn more about the Wesen uprising. Episode 6 is titled, Wesen Nacht, which airs this Friday 11 December, at 9pm ET/PT on NBC Network.
The official synopsis of the episode reads as follows:
Nick (David Giuntoli) and Hank (Russell Hornsby) investigate a wave of coordinated Wesen gang vandalism that results in the death of a local business owner and the kidnapping of Monroe (Silas Weir Mitchell) and Rosalee's (Bree Turner) friend. As they dig deeper, they learn that Portland wasn't the only city hit with a wave of violence. Meanwhile, Trubel (guest star Jacqueline Toboni) fills Nick and Adalind (Claire Coffee) on what she has been up to. Elsewhere, Capt. Renard (Sasha Roiz) dips his toes into politics as he endorses a local candidate.
Click here to watch the episode online on NBC's website, or click here to watch it via live stream online in the US.
The latest promo for the episode shows the Wesen uprising as Nick tells Captain Renard, "It is war." And Trubel adds, "Not just in this country, it is everywhere."
In another preview, released exclusively by Zap2it, Nick and Hank can be seen interrogating a Wesen, and the duo try to get some information about the uprising. Nick shows the "red four-scratch mark" to the woman and questions, "Do you know anything about this?" He warns her by saying, "You have been positively identified in a kidnapping."
Then, Hank explains, "You're looking at Federal and State charges. Not to mention, acts of terrorism and murder. You're looking at a minimum of 20 years." The Wesen, however, refuse to give any answers and sarcastically remarks, "I suppose you're both Wesen too? You think that makes us family?" To make their case convincing, Hank says, "I'm a cop. And he [Nick] is a Grimm."