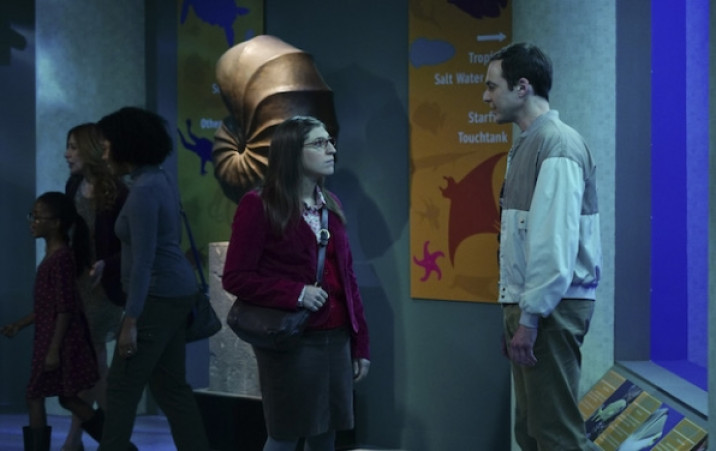 The Big Bang Theory returns after a brief break this Thursday, 10 December, where Sheldon Cooper will have a big revelation about Amy Farrah Fowler and they will finally reunite. Episode 10 titled The Earworm Reverberation will air at 8pm EST on CBS Network.
The official synopsis reads as follows:
Click here to watch the episode via live stream online on CBS All Access or click here to watch it online (only in the US).
Warning: Spoilers Ahead
A new promo for the episode shows Sheldon kissing Amy in her apartment as Dave watches them in awe and the voice-over declares: "Sheldon and Amy reunite!" The promo also teases that Sheldon will give Amy the perfect gift on her birthday as he declares: "Have coitus with Amy." Penny and Bernadatte Rostenkowski are shocked to hear him say that.
A new preview released for the episode shows Sheldon having dinner with Leonard Hofstadter and Penny and them being annoyed at the physicist's attempt to remember a song struck in his head. Sheldon says: "This song is never going to stop. Have you ever dealt with something so relentlessly irritating?"
Leonard jokes: "It's a trick question right?" Sheldon replies: "I shouldn't be surprised. There is a rich history of brilliant minds descending into madness." Penny tries to cheer Sheldon by saying there are plenty of smart people who don't have mental problems.
According to a leaked report, Sheldon will figure out that the song struck in his head is The Beach Boys song Darlin. The genius then realises that the song is about him and Amy and immediately runs off to find her. The episode will end with Sheldon telling Amy that he still loves her and they share a long passionate kiss, thereby setting up the 17 December episode where the couple will finally have sex.
To find out how Sheldon and Amy's love blooms, keep watching The Big Bang Theory season 9 that airs Thursday nights at 8pm EST on CBS.