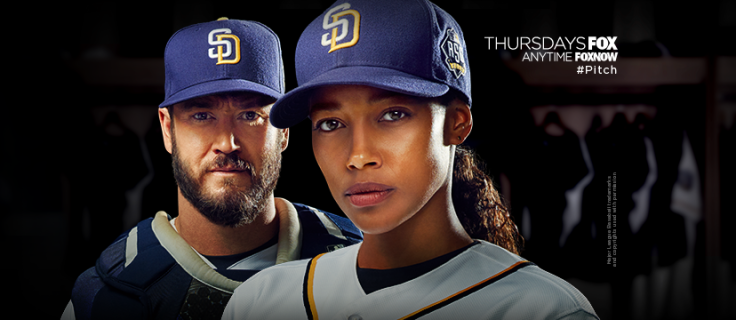 Pitch, Fox's latest sports drama based on Major League Baseball is making steady progress with ratings and so is the show's lead character and first MLB female player, Ginny.
Last week we saw the rookie try to make a place for herself on the San Diego Padres team, despite the continuing media attention. Sure, a number of her mates are annoyed by all the attention she is getting simply for being a female pitcher, but by the end of episode 2, and following a rousing speech from their captain Mike Lawson (Mark-Paul Gosselaar), there is the promise that things will get better.
One of those "Oh no!" moments from last week was definitely the final scene where Lawson is seen sharing a drink with Ginny's agent Amelia Slater (Ali Larter). We were really hoping to watch the chemistry between the two players bloom into something more intense but it looks like the showrunners want us to wait a while longer.
Episode 3 of Pitch airs on Thursday (6 October) and according to the official synopsis, the protagonist's personal and professional life will cross paths.
"The Padres are hyped up to play the Cardinals, whose pitcher broke Tommy's finger in an altercation, but Ginny is rattled when she spots her ex-boyfriend, Trevor, on the team. Meanwhile, Al calls on an old friend to help save his job," the description of 'Double Switch' – episode 3 – reads.
Watch the trailer for the episode below:
The promo for the episode shows a brawl breaking out on the field, which looks to have started when Ginny pushes Trevor in the chest. "Is he scared of hurting me," she asks in one scene.
We know well enough that all Ginny wants to do is play baseball and not be given special treatment simply because she is a girl, so she will not be happy with the unwanted protection.
Find out how the Padres fare against the Cardinals in the upcoming episode of Pitch which airs on Fox at 9/8CT on Thursday. You can watch the show live online here.