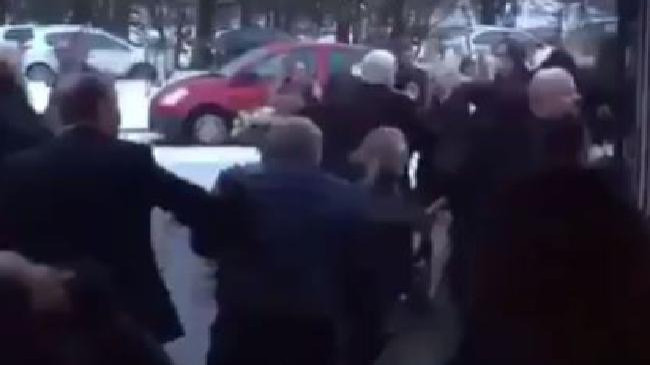 Shocking footage has emerged of a mass brawl between mourners at a Glasgow funeral.
The clash erupted beside the hearse that had carried the deceased to the Craigton Crematorium in Scotland's second city.
The fight involved around two dozen people punching and kicking each other, while women screamed and children ran for cover.
Part of the footage shows one man strike another with his walking stick, while two women argue in the foreground.
The video, which appeared online yesterday evening (2 January), has been widely shared gaining more than 10,000 views.
But it is still not clear who the mourners are, or whose funeral it was.
The video cuts out as a bemused undertaker looks on, and as desperate mourners attempt to break up the fighting.
Stunned Twitter users could hardly believe what they were seeing. One said: "That's totally mental, at least three separate fights going on!"
Another wrote: "Can't wait to see what happens at the reading of the will!"
Strangely, this isn't the first brawl to break out at a crematorium in the Glasgow area. In November 2016 two men ending up in hospital after a fight at a travellers' funeral, reports the Daily Record.
Mourners had gathered at the Daldowie ­Crematorium just outside the city in Uddingston, ­Lanarkshire, for the memorial service for "Big" John Connor, a respected member of the ­traveller community.
But 15 minutes before the lunchtime service began fighting broke out between mourners in the crematorium's car park, resulting in 20 police officers being called to the scene.
Police eventually taped off the car park, and two men were taken to nearby Wishaw General Hospital for treatment.