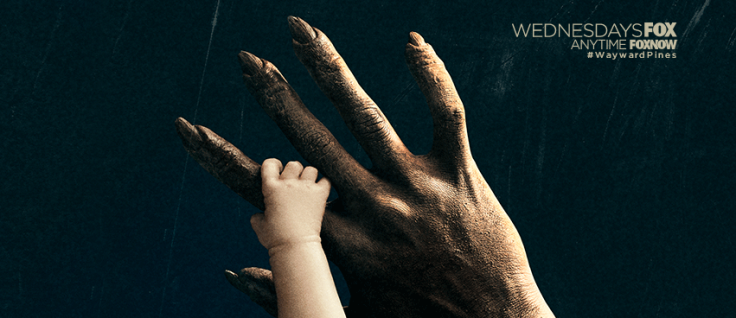 Episode 5 of Wayward Pines season 2 will explore the origins of the creepy town and the aberrations aka abbies lurking around. The episode titled, Sound The Alarm, will air on Wednesday (22 June) at 9pm EST on Fox Network.
The official synopsis for Sound The Alarm reads as follows:
Rebecca recalls first meeting Pilcher as an architect and the creation of Wayward Pines is revealed. Theo is shocked by a secret Rebecca divulges to him; Teresa tells CJ and Adam she wants to live outside the protected walls as Megan experiments on the first female Abbie that has been captured in the all-new "Sound The Alarm" episode of Wayward Pines.
In the previous episode fans got to see the return of Tim Griffin's character Adam Hassler. He was last seen in episode 9 of season 1, when Theresa found a tape confirming the truth about Wayward Pines.
Hassler had been living outside the fence for 12 years, exploring the world, and saw what was left of humanity. He revealed to Theo Yedlin that the abbies – the creatures that lurk on the other side of the fence – are "are not our enemy, they are replacements".
The episode ended with a shell-shocked Frank spotting an Abbie on Main Street. Griffin spoke to iDigitalTimes about Hassler's return, and how his character has changed from season 1. He said, "I m completely changed. I've gone mountain man like Leo DiCaprio in The Revenant. I haven't made contact with anyone in 12 years. It's a total mind trip. What's really fun is we shoot flashbacks so you can see what I look like back when I'm the head of the Secret Service--very clean cut and by the book."
The actor promised that fans would see numerous twists ahead and shared, "Many big twists. The big secret in Season 1 was like what is the matrix...what is Wayward Pines? Now that we know what Wayward Pines is, they delve deeper into who are the abbies."
"That's my character's function. I've been out there surviving amongst them, running from them and so there's a really cool question he'll have to answer: who deserves to survive? Just because this is the last outpost of humanity, does humanity deserve to exist? Or, did we jump our places in the evolutionary order? Everything that you think you know about the abbies and our relationship to nature gets turned upside down," he added.