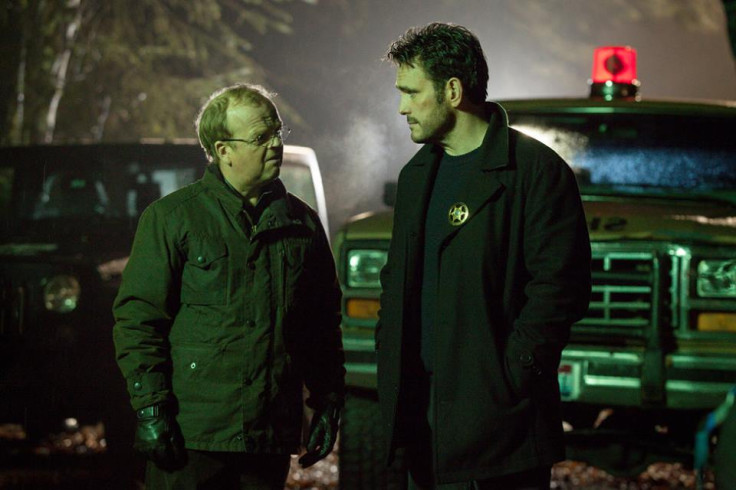 Wayward Pines returns with its penultimate episode tonight, 16 July at 9pm on Fox.
Episode 9 is titled, A Reckoning, where the people of Wayward Pines want a reckoning for Kate.
Click here to watch the episode online on Fox's website.
The official synopsis of the episode reads as follows:
A new promo of the upcoming episode shows First Generation leaders searching for Ethan and demand a reckoning.
In the promo, three young men from the Wayward Pines Academy storm the sheriff's office and demand that Sheriff Burke (Matt Dillon) "does his job the right way".
"If you break the rules, you have to be reckoned. That's the sheriff's duty... The future of this town in our hands, not yours and not your sheriff's. So you tell him if he doesn't do what he needs to do, if he doesn't reckon those traitors, soon someone's gonna do it for him, " the student threaten Burke's assistant.
David Pilcher and Burke also discuss this new issue they have at hand and about the safety of the town.
"The people of Wayward Pines are familiar with a certain way of life, where who break the rules are punished. They are going to demand retribution," David tells the sheriff.
"This happened because they didn't really know what was out there. Because you didn't tell them," says Ethan pointing to the incident where "terrorist" attacked the perimeter fence threatening the safety of the town's people in the previous episode.
"You have to act decisively and swiftly, to stop all this. One life to save Wayward Pines," says Pilcher.
The promo ends with Ethan holding Kate at knife point and asking everyone, "Is this what you want?" And a group of students is seen cheering on.
Meanwhile, showrunner Chad Hodge in an interview with TVLine says: "I have a very special place in my heart for [Episode 9]. It's an incredibly well written script by the Duffer brothers and directed wonderfully by Nimród Antal."
So what do you think, will Ethan kill Kate? To know more, catch up with all the high octane drama in A Reckoning that airs on 16 July at 9pm on Fox.